How long did it take for the author to write this book? Which character is her favorite? How much research did she have to do for this book? And which scene is her favorite?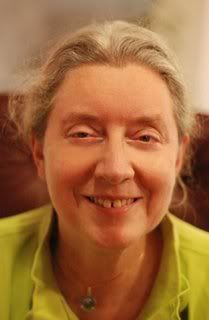 How long did it take you to complete Skolthan?
I wrote the book while I was working alongside my husband as Director of a Tuition Agency. I was determined to allow myself time to write, so I set aside Fridays for that purpose. They were not always respected, but I did try. Written just on Fridays, and including some drastic cutting and revision, the book took me 2 to 3 years.
Which character is your favorite? Is there a character you just didn't like very well?
I think Dick is my favorite character – underspoken, reliable, with an impish sense of humor. Obviously Alice, the arch witch, isn't intended to be at all pleasant.
Which scene is your favorite? Which scene was the hardest one for you to write?
My favorite scene is definitely the one inside Skolthan itself, where the characters each have their way of expressing appreciation of the beauty. The hardest scene was probably the one where Hilda and Sarah try to convey to Camilla, by a type of signalling, what she's supposed to do when she gets onto the island.
Where did your idea for Skolthan come from? Were you perhaps told stories of a place like this as a child?
I've always been intrigued by myths of places like Avalon and Atlantis.
Do you plan out the entire book before writing it? Or do you just sit down and write?
I just sit down and write. Such plans as I have tend to evolve.
Do you have a set time to write each day? Or do you wait to be inspired?
I don't have a set time of day for writing. Writing tends to fit itself round other things and might be done in quite short bursts.
How long did it take you to decide on a title for your book? Were there many other possible titles you had picked out?
I had 2 decisions to make. One was to make it a one-word title, the name of the mythical island itself rather than something like 'The way through'. The other was to choose the name of the island. It's a name similar to the real-life island that inspired it, but with a nordic ring to it.
How much research, if any, did you have to do for this book?
Quite a lot about specific things. For example, how many witches there are in a coven, how to take deadly nightshade and what it does to you, how you would anchor a boat on a shingle beach.
How did you choose the names for your characters?
I have 2 little books called 'Name your son' and 'Name your daughter' which I bought from a village shop as a child. I read through the names in there till something jumps out at me. I tend to go by what image a particular name conveys to me. 'Hilda', for example, sounds like a perfect mix of fey, rural and stolid.
How completely do you develop your characters before beginning to write?
My characters tend to be far more complete than my plot, but they can still develop.
The interview continues in
Conclusion of Interview with Damaris West
.