Johann Sebastian Bach, 1685 – 1750, was born in Eisenach, Thuringia, March 31, (March 21 on the Julian Calendar of the time), however as the Gregorian Calendar had been adopted by the time of his death there is general agreement he died on July 28. The eighth and youngest child of Johann Ambrosius Bach (1645-1695), the town trumpeter and director of Eisenach's musicians,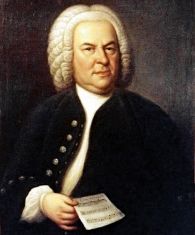 Johann Sebastian was born into a family where musicians stretching back generations, believed to number around 80, ranging from church organists and court chamber musicians to composers.
In fact although the name "Bach" means 'stream' in German it had come to be associated with "musician".
Now recognized as one of the greatest composers in western musical history his life and career all took place within a comparatively small area, but the breadth of music he produced was enormous. It included every musical category of the Baroque era except opera, and by the time of his death he had composed over 1,000 works from those for the organ, chamber music and concertos to cantatas and larger choral orchestral works such as St. Matthew Passion.
His compositions included "Toccata and Fugue in D Minor," one of his most popular pieces for the organ which was given a world wide audience when Walt Disney included it in the1940's movie, old but still watched and admired,
Fantasia
.
Bach began school at seven, and was given religious instruction in Lutheranism as well as studying Latin and other subjects, and this faith influenced his later works. His mother, Maria Elisabetha, and father both died within a year in 1764 and 1765, so the ten year old was sent to live with his brother, Johann Christoph, an organist at St. Michael's Church in the nearby town of Ohrdruf, and there went to a local school while at home learning the keyboard, composition and also how to restore and build an organ.
He was 14 when, with a school friend Georg Erdmann, Bach was awarded a choral scholarship giving him the opportunity to study at St. Michael's School in Lueneburg, a wealthy church which provided places for boys who were poor but had musical talent. Not having much money the boys probably walked for most of the long journey to Northern Germany, getting lifts on farmer's carts or river barges whenever possible.
The Michaelisschule and the Michaeliskirche had an impressive musical tradition and Bach stayed there between 1700 – 1702 becoming an organ virtuoso, as well as having had the chance to learn French,Italian, theology, Latin, history, geography and physics, in addition to singing.
On his arrival at St. Michaels he had a beautiful soprano singing voice so was immediately chosen for the elite "Metttenchor", Mattins Choir, but after this broke concentrated on expanding his skills with the violin and harpsichord, while amongst his fellow students were those from noble families destined for diplomatic, military, or governmental careers, and he was exposed to different German and European music and culture.
All of which he would never have found access to in Thuringia.
This showed in his later compositions which were influenced by different styles from across Europe. Including those of France from when he played the violin at the Court of Celle, at Das Celler Schloss 50 miles south of Lueneburg, and Italian instrumental music which was learned while spending some time in Weimar, as violinist, in a chamber orchestra belonging to the younger brother of the Duke of Weimar, and as deputy to the official Court Organist.
In June 1707 he became organist of the Blasiuskirche, St. Blasius Church, in Muehlhausen, a prestigious position which made it possible for him to marry his second cousin, Maria Barbara Bach daughter of a composer, in October that year, and they had seven children. Two of the five sons and one of two daughters died before they were one year old.
Maria Bach died unexpectedly in 1720, while Johann Sebastian was away accompanying his then employer, the Duke of Koethen, as a musician while the duke took the waters in Carlsbad.
Seventeen months later in December 1721 Bach married Anna Magdalena Wilcke, a soprano who was employed at Koethen, and they raised the remaining children from his first marriage and eventually had 13 of their own, seven of whom died during infancy. It was in the relaxed atmosphere of Koethen that Bach wrote the
Brandenburg Concertos
, four Orchestral Suites and violin concertos.
Bach was happy and content with both his marriages, and a devoted family man who shared his love of music with his children, several of whom became composers and musicians. Although he did not think to ensure an education for his daughters. While during his years in Leipzig the Bach home became a meeting place for music lovers, with regular musical evenings when the whole family played and sang together with visiting friends, and musicians from Germany and other countries would visit.
The family had left Koethen in May 1723 and moved to Leipzig where Bach was Cantor and Director of Music and his arrival was treated a a major event in the musical and social world of the city. He spent the remaining 27 years of his life there, but not only was the salary far less there was an absence of the aristocratic ease of the Court of Koethen, where Bach was free to make music as and when he liked, in Leipzig everything was kept to a rigid timetable, and he had clearly defined duties.
In addition from the beginning of his tenure the Leipzig authorities had made it clear they had hoped a more important composer, Telemann, would accept the post at St. Thomas's Church and Choir School, but he had turned down the offer preferring to write theater music in Hamburg.
Referring to the appointment of Bach the City Council had written: "Since we cannot get the best man, we must put up with a mediocre one", and his entire time in Leipzig was in many ways made a stressful one.
Nevertheless Bach's work output during this period was prolific, filled with new compositions and revisions of previous ones. In addition to his work at St. Thomas he was increasingly widely respected as a composer, musician, teacher, organist, and specialist in organ construction, became the Court Composer to the Dresden Court - the Elector of Saxony and King of Poland - and until 1741 was permanent director of the highly regarded Collegium Musicum, which proved to be a similarly relaxed and rewarding way of working as his time at Koethen.
And one of his biggest fans was King Frederick the Great of Prussia, whose Court Harpsichordist was Bach's son Carl Phillip Emmanuel.
Bach became more introspective as he grew older, although he continued composing, however he had worked in badly lit conditions during his life so his eyesight began to fail, and the Leipzig Council wasted no time in beginning to look for a successor. In March and Apri1 1750 a renown English ophthalmic specialist John Taylor, who had operated on Handel, performed two cataract operations on his eyes but with no success.
In fact Bach became weaker, and spent the last months of his life in a darkened room.
It is said that on the morning of July 28, 1750, he awoke to find not only could he see clearly but his eyes were once again able to bear strong light, but later that day he had a stroke and died just before nine o'clock that evening, with his death a defining point in musical history as it marked the end of the Baroque Era.
During his lifetime, Bach was better known as a gifted organist and teacher than composer, and few of his works were published, but although mostly forgotten his compositions were admired by Amadeus Mozart and Ludwig van Beethoven amongst others, while after German composer
Felix Mendelssohn had the "St. Matthew Passion" performed in Leipzig's St. Thomas Church in 1829 a rediscovery and appreciation of Bach's work began.
A devout Lutheran, although he had not been been as much of a religiously inspired composer during the last two decades of his life as in the years before, Bach wrote the initials S. D. G., "Soli Deo Gloria," - To God Alone The Glory -at the bottom of almost every piece of music he composed. However Leipzig's St. Thomas Church authorities did not erect a tombstone or any other monument in his memory, and his widow Anna Magdalena and their six surviving children were evicted from their home.
IMAGES: Johann Sebastian Bach, in 1746 aged 61. Portrait by Elias Gottlob Haussmann, this is the second version from 1746, owner William H. Scheide, Princeton, the original is in the Altes Rathaus, Leipzig. Public Domaine
Celle Castle, Das Celler Schloss, four-winged castle in Lueneburg Heath region of Lower Saxony, photographer and original uploader Hajotthu via de.Wikipedia
Engraving from 1735 showing the Thomasschule, distant and off center, where Bach's family lived in the left hand third of the building, and the Thomaskirche in the foreground, source 'Heiligenlexikon.de' via de.Wikipedia
Toccata and Fugue in D Minor - Fantasia (1940, The Philadelphia Orchestra, Leopold Stokowski - Bach - Brandenburg Concertos No.3 - i: Allegro Moderato, Bwv1048, Freiburg Baroque Orchestra
For topics in the news

And you can follow German Culture on Facebook
Really worth watching and listening to: Brandenburg Concertos/Freiburger Barockorchester - a superb interpretation of Bach
And if you would like to learn more about the various sides, and talents, of Bach Johann Sebastian Bach: The Learned Musician is the book to read.