Classic Chocolate Fondue
is the perfect dessert to end a romantic Valentine's Day dinner this year. Although there are dozens of great dippers (see list below), fresh strawberries seem to be the most romantic; the other dippers can be served on other days. Since this luscious fondue has only three ingredients, it's easy enough for almost anyone to make. The following recipe is cooked in the microwave and transferred to a small fondue pot. Leftovers can be refrigerated for several weeks, and reheated or used as hot fudge sauce over ice cream.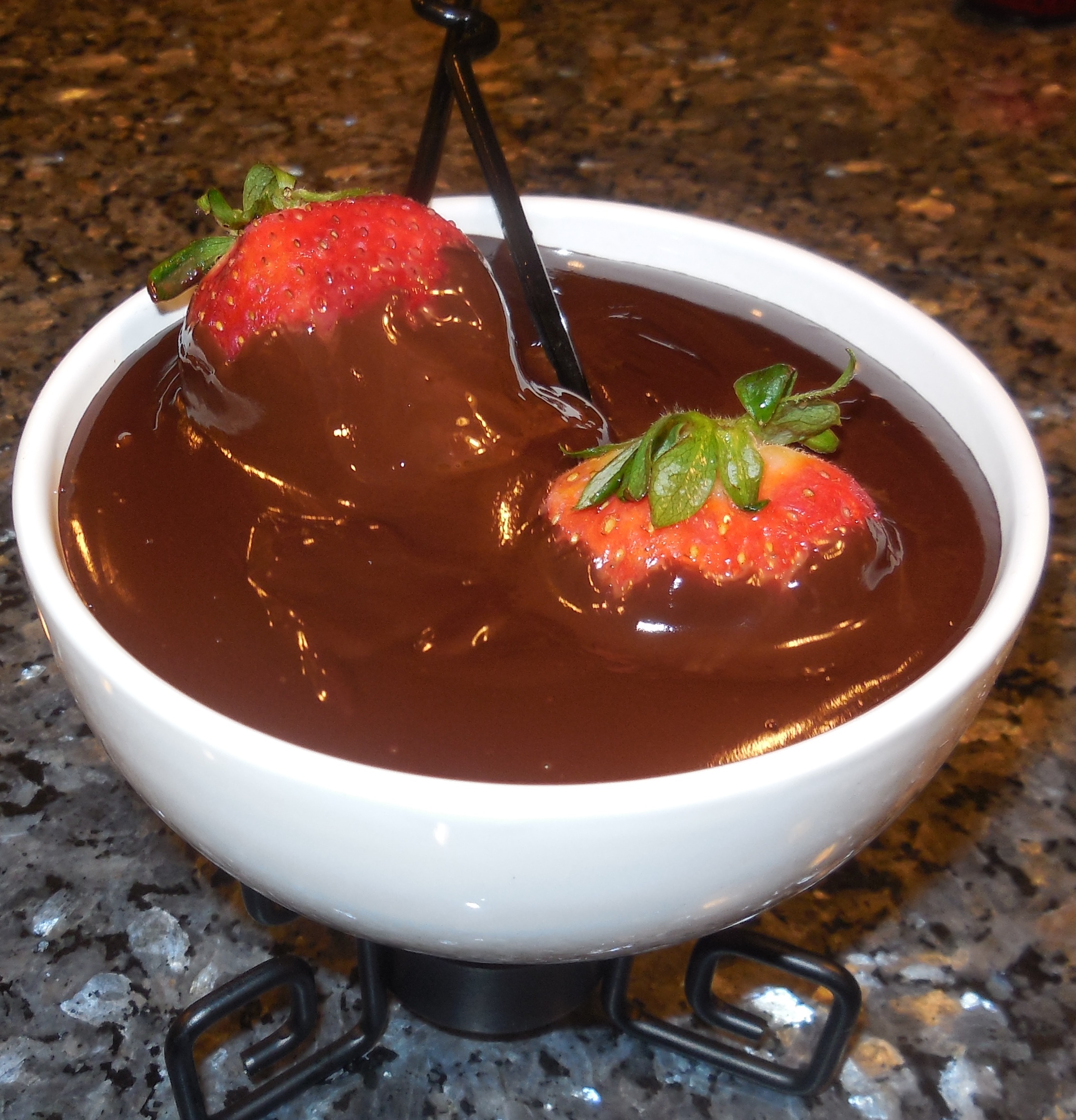 When choosing a fondue pot for chocolate fondue, make sure you get one with a candle for warming, rather than one that uses Sterno or other stronger heat sources. Chocolate fondue, as well as most varieties of dessert fondue, can scorch easily if the heat source gets too hot. No worries, however; something as fabulous as this will disappear so fast, that minimal stirring will be necessary.
6 Servings
1 cup semi-sweet or bittersweet chocolate chips , preferably 60% Cacao (highest quality – try to avoid "chocolate flavored," cheap store brands, and Nestles, which contains more additives than most others)
1 cup whipping cream
2 tablespoons liqueur, or coffee syrup (choose a favorite flavor)
In a large microwaveable bowl, microwave the chocolate chips and whipping cream for 3 minutes.
Let sit 5 minutes, then whisk until smooth.
Stir in the liqueur or coffee syrup.
Place in a fondue pot to stay warm, and serve with dippers.
Stir the fondue often, and if necessary, thin with heated whipping cream.
Dippers:
Strawberries
Drained mandarin oranges
Red or Green Seedless Grapes
Fresh or canned Pineapple
Pears (soaked in orange or pineapple juice)
Apples (soaked in orange or pineapple juice)
Bananas (soaked in orange or pineapple juice)
Pound cake squares
Angel Food Cake Squares
Miniature coconut macaroons
Miniature Brownie Squares
Marshmallows
Soft cookies of any kind
Miniature Rice Krispie Treats
Gummy Bears
Swedish Fish
Pretzels
Amount Per Serving
Calories 313 Calories from Fat 223
Percent Total Calories From: Fat 71% Protein 3% Carb. 24%
Nutrient Amount per Serving
Total Fat 25 g
Saturated Fat 15 g
Cholesterol 54 mg
Sodium 16 mg
Total Carbohydrate 19 g
Dietary Fiber 0 g
Sugars 0 g
Protein 2 g
Vitamin A 12% Vitamin C 0% Calcium 0% Iron 4%
If you don't have or can't find a chocolate fondue pot, the following are available from Amazon: