This pattern is my design, you may copy it free, for your own personal use, but it may not be used commercially.
Materials needed for each bear
1/4 yard cotton calico fabric
approximately 1/4 bag of polyester stuffing
1 yard of 6 strand embroidery floss in bright or dark colors
18 inches of 1/8 inch wide satin ribbon for the bow
matching thread
large eye, sharp needle for embroidering the face
embroidery hoop
All pattern pieces include a 1/4 inch seam allowance and are shown on a 1/2 inch grid. The pattern as shown was drawn on 8 1/2 inch by 11 inch printer paper, so you can print the pattern at 100% to fit the paper.
To copy the pattern by hand you can create a 1/2 inch grid by measuring every half inch and making a pencil dot all the way down and across, on both sides of a piece of 8 1/2 by 11 inch paper. Then use your ruler or straight edge to connect the dots with your pencil. Then draw the pattern lines into each square of your grid, exactly as they are shown in my design.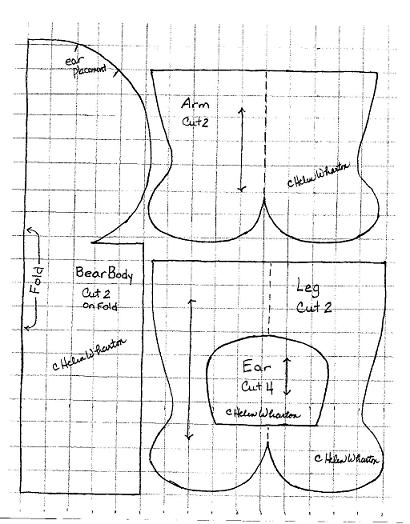 The pattern piece for the ears is shown in the middle of the pattern piece for the legs, to save space. It must be copied onto it's own paper.
If you prefer to embroider the facial features before cutting, trace the pattern piece onto the fabric. Then trace the facial features and stretch the fabric in an embroidery hoop. Using the 6 strand embroidery floss use satin stitch for the nose and the irises of the eyes, and stem stitch for the mouth and eye outlines. For directions on how to do these stitches
Look Here
. I recommend using either dark or very bright colors that look nice with your fabric. If you would rather embroider the face after the bear is assembled, trace the features onto the body and complete sewing and stuffing the bear, then finish the embroidery.
Lessons
1.
Bear Doll Home Page
2.
Bear Doll Pattern
3.
Bear Doll Sewing Instructions
4.
Make a Skirt for Your Bear Doll
Making and Dressing Cloth Dolls
Ebook with patterns and instructions to make 5 cloth dolls as well as chapters on general doll making techniques.The book includes 21 inch Lalena Doll, 21 inch David Doll, Bear Dolls, 9 inch Destiny Doll and 15 inch Annie Doll, all together in one handy book. 53 pages.
Making and Dressing Cloth Dolls
.