This is an easy to make, reversible vest that can dress up any doll out fit for the Holidays. I have made it in a solid green fabric and a red fabric with gold hearts printed on it. It will work with any color scheme that you like, for whatever holiday you wish to celebrate. This vest reminds me of the pretty Christmas sweaters that are so popular for people to wear, and is a quick way to add a holiday touch to any doll.
Materials Needed
1/4 yard of 2 different fabrics, fat quarters work nicely, so do scraps.
matching thread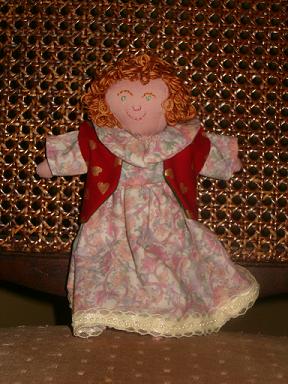 All pattern pieces include a 1/4 inch seam allowance and are shown on a 1/2 inch grid. To copy the pattern by hand you can create a 1/2 inch grid by measuring every half inch and making a pencil dot all the way down and across, on both sides of a piece of 8 1/2 by 11 inch paper. Then use your ruler or straight edge to connect the dots with your pencil. Then draw the pattern lines into each square of your grid, exactly as they are shown in my design.
The vest is shown on my
9 Inch Destiny Doll
. You can make the vest 1/2 inch smaller, all the way around, to fit her. The pattern as given will fit on my
15 Inch Annie Doll
or my
Bear Doll
.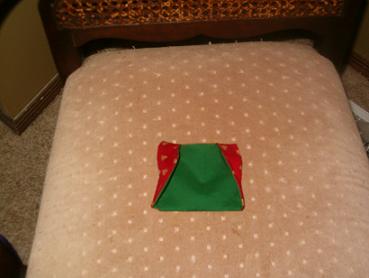 To make the vest sew the 2 back pieces together, right sides facing, leaving a small area open to turn right side out. Stitch the opening closed, after turning. Repeat this process with the 4 front pieces. Line up the fronts with the back, at the sides. Using a small ladder stitch, sew the shoulders together and the sides together, below the arm openings.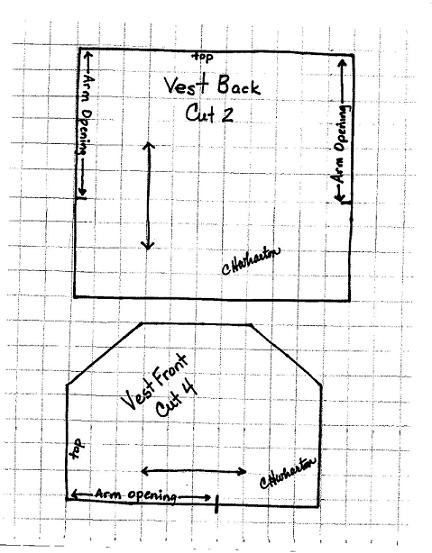 Making and Dressing Cloth Dolls
Ebook with patterns and instructions to make 5 cloth dolls as well as chapters on general doll making techniques.The book includes 21 inch Lalena Doll, 21 inch David Doll, Bear Dolls, 9 inch Destiny Doll and 15 inch Annie Doll, all together in one handy book. 53 pages.
Making and Dressing Cloth Dolls
.