Rejoice! He is Risen

Easter is not merely about coloring eggs or eating chocolate bunnies. It´s the joyous celebration of Jesus´ resurrection. Our Savior will live forever, and so can we! Through His transition into new life, Jesus paved the way for us to enter into that same new life one day.
Not only do we celebrate our Lord´s resurrection, but also the hope and promise of our own salvation. Jesus spoke to them again, saying, "I am the light of the world. Whoever follows me will not walk in darkness, but will have the light of life." (John 8:12)
Celebrate! Our Savior is Alive!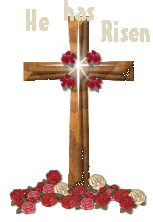 Jesus is the light of the world. Our light. Our salvation. Our pathway into life everlasting. The season of Easter is a time to not only celebrate His passage from death into new life, but our own as well. We are born anew! We now have new hope - the hope of eternal life. The promise of freedom from death. Whoever does not honor the Son does not honor the Father who sent him. Amen, amen, I say to you, whoever hears my word and believes in the one who sent me has eternal life and will not come to condemnation, but has passed from death to life. (John 5:23-24)
The Easter message of hope is reinforced in the Book of Revelation. Though perhaps one of the toughest books of the Bible to read and study, the last book of Sacred Scripture is one of hope for our salvation and living it out. Remain faithful until death, and I will give you the crown of life. Whoever has ears ought to hear what the Spirit says to the churches. The victor shall not be harmed by the second death. (Rev 2:10-11) The victor thus will be dressed in white, and I will never erase his name for the book of life but will acknowledge his name in the presence of my Father and his angels. (Rev 3:5) White signifies not only victory and joy, but resurrection as well. As long as we remain faithful to our Lord we too, like Jesus, will one day be raised up. Up into a new life - a life everlasting.
Rejoice! We are forgiven!
Jesus died on the cross for our sins and rose for our salvation. We are sinners but through God´s great and awesome love and our own repentance, we are forgiven! Christ´s resurrection renews us, gives our lives here on earth a whole new meaning. This - our human experience - is not what it´s all about. Our true home is with our Lord. As Amy Grant sings:
In a little while we´ll be with the Father,
can´t you see Him smile?
In a little while we´ll be home forever,
in awhile.
We´re just here to learn to love Him,
we´ll be home in just a little while.**
In the realm of eternity we´re just here for a short time - to learn, to love, to accept the greatest gift of all. Jesus. Our journey will take us to our true and permanent home - in just a little while.


Peace in Christ,
© Melissa Knoblett-Aman
Visit BellaCatholic´s CafePress Shop for t-shirts, sweatshirts, mugs, a mousepad, totebag and more with original designs and logos created by your host.