There is a piece of German farming folklore about Easter which tells us:
Wenn zu Ostern die Sonne scheint,
sitzt der Bauer am Speicher und weint


When at Easter the Sun shines,
The farmer sits in his barn and cries
Which could be true for the farmers of Germany, but not for the children who have spent the days leading up to the Easter holiday coloring and decorating eggs to hang on
Eierbaum
, Egg trees, or whose Easter Sunday is occupied with their long anticipated Easter Egg Hunt. Rushing around trying to find where
Der Osterhase
the Easter rabbit, who is even more elusive than the Christkind, has left their chocolate, marzipan, sugar and colored hen's eggs.
Or perhaps the traditional cardboard Easter egg which, decorated with Easter rabbits or chickens, has probably been handed down for generations and reveals candy or a small gift when its halves are separated.
The weeks before Easter and
das Osterfest
are filled with its most easily recognized symbol, the egg, and many of the artist's creations to be seen at the Easter Markets throughout Germany are not just 'painted eggs' but miniature works of art, on every type of egg from Quail to Ostrich.
There are also beaded, batik, crazy quilt, dried flower covered eggs and more, all of which are usually put on show hanging from Easter Trees, as part of center pieces or surrounded by feathers in baskets. Together with masses of spring flowers, especially daffodils, or
Osterglocken
Easter bells as they are known in Germany, and themed local arts and crafts, the 'designer' egg displays ensure the booths are a riot of color.
But whether it arrives late or early in the Spring an Easter in Germany,
Ostern in Deutschland
, is always colorful. German homes and gardens are often decorated for the festival and one way is with an
Osterstrauch
, an Easter tree, cut 'pussy or corkscrew willow' or flowering twigs placed inside the home or trees and bushes in the garden, which are decorated with eggs that have been emptied out through a small hole in the shell, dyed, marbled, decorated or painted with designs and hung from ribbons.
In some areas of Germany
Osterbrunnen
, Easter Fountains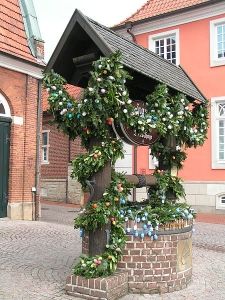 and Wells, a tradition celebrating the life giving importance of water, is still followed, and carefully hollowed egg shells left from cookery expeditions in the kitchen are collected throughout the year.
These are hand painted, strung into garlands together with swathes of evergreen branches, are used to festoon the old fountains and wells in villages or towns, each in a completely different style, giving Easter Markets an even more festive air. After Palm Sunday they are topped with a crown or an arch and there they remain for up to two weeks after Easter.
It is not easy to imagine an Easter without eggs. Originally a pagan symbol of earth's rebirth as spring arrives, becoming a Christian symbol of Christ's resurrection from the dead and believed to represent the boulder rolled away from his tomb, now a tradition that uses colored eggs as decorations.
However there was a practical reason behind the custom, eggs that had been cooked to stay fresh longer during Lent needed to be differentiated from those that had not, and over the years the colors began to take on different meanings.
Yellow
was for Inspiration and Wisdom,
Red
the Martyrdom of Jesus,
White
- Purity,
Green
- Hope, New Beginnings, Innocence and Youth, and
Orange
for Strength, Persistence, Warmth and Ambition.
There are regions of the country where even the color of the first egg found during the Easter egg hunt is important,
blue
is unlucky, while
red
should bring three days of good luck.
It is a custom throughout Germany that children, and many adults, decorate hollowed out white eggs with designs, faces, flowers, chicks, rabbits, using water colors, special felt tip pens, pieces of paper, fabric, shells or beads, or one of the special packets of paints and egg decorating kits that are on sale at every supermarket leading up to Easter.
While color experiments with ingredients from around the home are also fun. Boiling white eggs in slightly vinegary water with spinach turns them
green
, chopped onion skins give
brown
shells, turmeric colors them
yellow
, using beetroot juice they end up
deep red
, and it might be considered a 'cold unlucky' color but blueberry juice makes a beautiful
blue
.
Wrapping uncooked eggs tightly in a small piece of thin muslin, in which a few flat leaves such a parsley or grass have been placed, and then boiling them, leaves behind a leaf shaped pattern and once cold the colored eggs can be polished to a shine with cooking oil.
These colored and decorated
gekochte Eier
, boiled eggs, are used to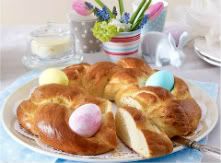 eat, decorate the Easter morning breakfast table, are added to a plaited sweet bread, the
Osterkranz
or Easter Wreath, given as gifts or added to the Easter tree.
And continuing with the egg theme
Falsche Hase
, 'False Hare', is often on the table. A traditional recipe from the days when meat was scarce in the years immediately after WW II but still popular today, it is basically a meatloaf, sometimes shaped to resemble a rabbit, with a boiled egg hidden inside.
As they were forbidden during Lent in early Christian days, eggs were a highly anticipated delicacy forty days later and, even though few follow the strict Lenten rules in today's Germany, eggs in all their forms still play a starring role in the country's Easter celebrations.
Frohe Ostern! - Happy Easter
Illustrations: The Eierbaum, Egg Tree, decorated each year by the Kraft Family, Saalfeld, Thuringia, photographer AndrewPoison via de.wikipedia - Natural Well Decorated for Easter, Haseluenne, Lower Saxony, photographer Corradox via de.wikipedia - Decorated Easter Fountain in Forchheim, northern Bavaria, courtesy Thomas Schmidtkonz - Traditional plaited sweet bread Easter cake
For topics in the news

And you can follow German Culture on Facebook