Hello, and welcome back! Hopefully the last newsletter reached all of you on the mailing list--I had far fewer bouncebacks this time than two weeks ago, so I have to believe that's the case. At the moment, I'm nursing a new sunburn from the last baseball game over the weekend, but the local herb shop made up a lovely spray for me when I rushed in there after the game, and while I'm staying inside out of the sun, I have plenty of new books to keep me occupied.
In case you missed it, our June Book Club Selection is up. I hope you'll join us for that discussion in the forum next month. It's a great book.

And have you been checking out our picks of the week over in the forum? If you haven't, you've missed out on some great books. I've been trying to post those on the main page here as well, in case some of you haven't popped into the forum. This week's is Thea Devine's latest,

Satisfaction (Brava), a super-sexy read that'll singe your fingertips, and not for the fan of the sweet romance.

First up this week is Jo Beverley's

Skylark (Signet). To protect her child and late husband's heir, Laura turns to the man she loved and left long ago, Stephen Ball, a man who wants her still and will do anything to help her protect her son from a possible murderer. Jo Beverley's books are some of the best historical romances out there, and this one won't disappoint: great conflict, characters you want to cheer for, and steamy sensuality. I'm borrowing four of Cupid's five arrows for this one. It's a real keeper.

The other book I read this week is Denene Millner and Nick Chiles's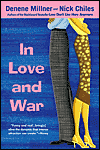 In Love and War (NAL), with Zaria Chance ready to play mama bear with her son's teacher, Kenneth Roman, when she goes in for her conference. I'll start by reminding you that I generally hate stories told in the first person, and this one is no exception to that. Also, I absolutely didn't buy his reasons for keeping his own secret as long as he did. Without giving it away, I'll just say it's not that big a deal that he should be keeping it a secret as long as he does. Or at all, for that matter. This one is definitely not a keeper for me. I'm giving it only one arrow.

Until next time, happy reading!