Oceania – What is Oceania?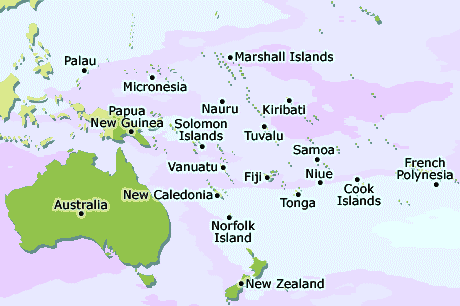 Broadly speaking, Oceania describes the region centred on all islands of the tropical Pacific Ocean, which are situated south of the Equator. There are many, many islands, both large and small that make up the "continent" of Oceania. The general regions that make up Oceania are Australia and New Zealand (termed Australasia), Melanesia, Polynesia, Micronesia and Southeast Asia.
A further breakdown of these regions is as follows - Melanesia consists of Fiji, part of Indonesia, New Caledonia (France), Papua New Guinea, the Solomon Islands, and Vanuatu.
Micronesia consists of the Federated States of Micronesia, Guam (USA), Kiribati, the Marshall Islands, the Northern Marshall Islands (USA), Nauru, Palau, and Wake Island (USA).
Polynesia consists of American Samoa (USA), the Chatham Islands (UK), the Cook Islands (UK), Easter Island (Chile), French Polynesia (France), Hawaii (USA), the Loyalty Islands (France), Niue (NZ), the Pitcairn Islands (UK), Samoa, Tokelau, Tonga, Tuvalu, and Wallis and Futuna (France)
Altogether, the population of Oceania is about 36 million, with all but 11 million living in Australia or New Zealand.
Interestingly the regions of Oceania were not colonised until the late 18th and early 19th centuries, when in contrast Europe and the America's were colonised during the 17th Century and before.
The "continent" of Oceania is made up of Sovereign States and Dependent Territories.
Generally speaking Sovereign States have a political organization with a centralized government that has supreme independent authority over a geographic area, where a Dependent Territory is a territory that does not possess full political independence or sovereignty as a sovereign state yet remains politically outside of the controlling state's integral area.
Here is a listing of all Sovereign States and Dependent Territories of Oceania
Sovereign States of Oceania are:
The Commonwealth of Australia

Republic of Fiji

Republic of Kiribati

Republic of the Marshall Islands

Federated States of Micronesia / Micronesia

Republic of Nauru

New Zealand

Republic of Palau

Independent State of Papua New Guinea

Independent State of Samoa

Solomon Islands
Kingdom of Tonga

Tuvalu
Republic of Vanuatu
Dependent Territories of Oceania are:
Territory of American Samoa which is an Insular area of the United States
Territory of Ashmore and Cartier Islands Territory of Australia
Baker Island which is a United States Minor Outlying Island

Clipperton Island which is a French state private property

Cook Islands which are Self-governing state in free association with New Zealand

Coral Sea Islands Territory Territory of Australia

French Polynesia which is an Overseas country of France

Territory of Guam which is an Insular area of the United States
Howland Island which is a United States Minor Outlying Island

Jarvis Island which is a United States Minor Outlying Island

Johnston Atoll which is a United States Minor Outlying Island

Kingman Reef which is a United States Minor Outlying Island

Midway Islands which are United States Minor Outlying Island

New Caledonia which is known as Territory of New Caledonia and Dependencies Sui generis collectively of France

Niue which is a Self-governing state in free association with New Zealand
Norfolk Island which is a Self-governing integral Territory of Australia
Northern Mariana Islands which is an Insular area of the United States
Pitcairn Islands which includes Pitcairn, Henderson, Dulcie, and Oeno Islands are a British overseas territory

Tokelau which is a Dependent territory of New Zealand

Wake Island which is a United States Minor Outlying Island

Wallis and Futuna which are considered Overseas collectively of France