Hello, and welcome back! Hope you're all fitting in some reading time between summer activities.
A big summer activity is always vacation, and for lounging on the beach with a cool drink, what else could a romance fan want besides something great to read? Not much, as far as I can tell. So I've made a list of great romances to pack in your bag this summer for those lazy beach days--or any other summer day you want some reading material. Enjoy!

Like yours contemporary? Check these out:


Shaken and Stirred by Sue McKay would be a good choice.

Or maybe...

The Cajun Cowboy by Sandra Hill, not only sexy but funny, too.

Linda Howard's latest is coming mid-July:

Kiss Me while I Sleep, and I can hardly wait!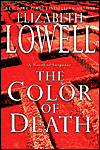 The Color of Death by Elizabeth Lowell is available now if you're looking for some suspense.

And Lori Foster has one out in August if your vacation isn't happening quite yet...
Sex Appeal

Prefer historical romances? Thea Devine's latest is out now...

Satisfaction.

Or maybe an anthology,

My Scandalous Bride, with stories from Celeste Bradley, Christina Dodd, Stephanie Laurens, and Leslie LaFoy.

Like 'em spicy and hot like the season? Bertrice Small's very first contemporary is coming soon, and though it's not exactly a romance, it is definitely spicy...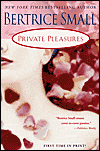 Private Pleasures

How about a little paranormal? Is it possible you haven't yet picked up Nora Roberts's Key trilogy? Vacation seems like a good week for those...

Key of Light (New Key Trilogy Series #1)

And

Key of Valor

Maybe a vampire instead?

Edge of Twilight by Maggie Shayne should fit the bill.

An even dozen books to whet your reading appetite for vacation doesn't seem nearly enough to last the summer, but it should give you a good start!

Until next time, happy reading!