OK, this is not new but it's new to me. This double DVD release was put out in October 2005 but it's worth reviewing now because it's such a terrific package. The band is of course, for you Johnny-come-latelies, the project Ritchie Blackmore put together following his lengthy career with Deep Purple and Rainbow. In Blackmore's Night, he collaborates with his partner Candice Night who is the vocalist. They play a variety of music that is mostly Renaissance-style but also incorporates pop, folk and the dash of rock.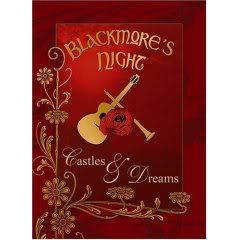 Castles & Dreams
is bursting at the seams with excellent material. The greater part of DVD 1 is made up of live footage taken from a show in Germany. The concert is set outside a castle and crowd spills up and around a hill surrounding it, similar to the Red Rocks set-up. Blackmore dazzles with a host of excellent instrumentals, reminding us that his guitar prowess doesn't take a back seat to anybody, despite playing more sedate music. Candice has a wonderful voice that really embraces each note and lyric and she delivers the material with a wide smile, obviously enjoying herself. The material spans the entire 10-year plus catalogue of the band and includes a couple of nuggets that will tickle Purple fans. They cover "Soldier of Fortune" from the Stormbringer record as well as giving "Child in Time" a bit of a nudge by combining it with an instrumental "Mond Tanz".
Also on this disk are a Behind the Scenes special and a special section where you can watch one of the concert songs with a special camera angle in the corner to see Ritchie's every note on the guitar.
The second disk is also quite stuffed. First off, there are some acoustic songs, video-taped from within a castle which is quite unique. There are also five videos and a host of documentaries which tell the story of how the band began, how Ritchie and Candice met and much more. There are biographies of both Ritchie and Candice as well as a complete discography, and interview with band members and even a movie put together from Candice's own camera. Altogether there is almost four hours of content in this package, giving you big-time bang for your buck.
Here is the listing for the set.
DVD 1 (Concert Burg Veldenstein 2004):
1. Intro
2. Cartouche
3. Queen For A Day I
4. Queen For A Day II
5. Under A Violet Moon
6. Minstrel Hall
7. Past Times With Good Company
8. Soldier Of Fortune
9. Durch Den Wald Zum Bach Haus
10. Once In A Million Years
11. Mr. Peagram's Morris And Sword
12. Home Again
13. Ghost Of A Rose
14. Mond Tanz / Child In Time / Mond Tanz
15. Wind In The Willows
16. Village On The Sand
17. Renaissance Faire
18. The Clock Ticks On
19. Loreley
20. All For One
21. Black Night
22. Midwinter's Night / Dandelion Wine
23. Credits
24. Behind the Scenes
25. Ritchie Blackmore' Guitar Special
DVD 2:
1. I Think It's Going To Rain Today (acoustic)
2. Christmas Eve (acoustic)
3. Shadow of the Moon (Burg Abendberg 2004)
4. Queen For A Day (Burg Abendberg 2004)
5. Under A Violet Moon (Burg Abendberg 2004)
6. The Times They Are A Changin' (video)
7. Way To Mandalay (video)
8. Once In A Million Years (video)
9. Hanging Tree (video)
10. Christmas Eve (video)
11. Blackmore´s Night - The Story
12. Once upon a Time / The Candice and Ritchie Story
13. Tourstart St. Goar 2004
14. Hanging Tree / making music with our friends
15. Schlossgeister - German TV special
16. Goldene Henne - German TV appearance
17. Fernsehgarten - German TV appearance feat. All Because Of You
18. Discography - Blackmore´s Night
19. Biography - Candice Night
20. Biography - Ritchie Blackmore
21. Interview - Band & Members
22. Slideshow
23. Candice's Private Cam