Hello, and welcome back! I think we're finally getting into the home stretch for our Little League season--although if my oldest son's team continues to win, I guess the season may never end. Or maybe it'll just feel like it. In any case, with at least two and a half weeks more of baseball, I won't complain too much about my too-small stack of reading material. But once we're not running nearly everyday to get to one baseball field or another, I'll have more reading time again, and then I may complain, and loudly.
In the meantime, I have one last June release to share with you, as well as the first of the July books. Shirley Jump's

The Daddy's Promise (Silhouette Romance #1724), Vol. 172 is out now if you're looking for a quick, light read. Anita Ricardo's trying to settle into small-town life before the arrival of her baby, and definitely not looking for a man. Luke Dole has enough on his hands without adding a baby that's not even his to his life, but finding Anita living in his small town puts a monkeywrench into his plans. This one's a fun read, perfect for a few hours' distraction, with characters you've met in her previous stories and fun new additions. This one gets three and a half of Cupid's five arrows.

The other book I have to share with you this week is the latest from Bertrice Small,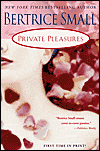 Private Pleasures (NAL). You all know Bertrice Small as the author of dozens of steamy historical romances, but this one is different: first of all, it's contemporary. Secondly, it isn't exactly a romance. I hear your groaning and cries of disbelief, but you can stop. I loved this one, including the twist at the end and despite some passages of pure narrative that pull you out of the story a little. Nora Buckley's been a good wife for years, but now that her husband's cheating is out in the open, he wants a divorce, and doesn't want Nora or their kids to have anything. When her friends tell her about The Channel as a means to cheer her up, she has no idea what to expect. All I can say is, whew! Pass a cool drink and a fan. This one is not for the faint of heart, nor for anyone expecting a traditionally happy ending. For those who love to get their fingertips singed by the pages, this one should be just about perfect. I'm giving this one four arrows. I'd give it more, but for that ending.

Until next time, happy reading!