Do you craft in a special room? Do you craft on the dining room table? Where do you store your supplies? I used to have a special room but now I share a room with my kids' office, where they do homework and such and where we store all our paperwork and keep all our "junk". But am I organized? You bet. Because I also love fabrics and sewing as well as paper, I have to keep all my supplies sorted and handy. Here are some ideas for storage.
I recycled an old Ikea drawer box by printing up Christina Renee Designs digital papers and tearing them and adhering them to it for an altered type of look. I use this for storing various different ribbons, odds and ends, needles, and such.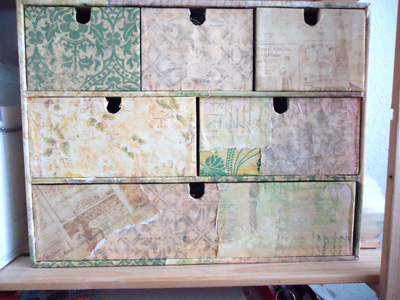 Plastic is great for storage. So many different types of plastic containers are made to hold all your supplies and most of them will help to keep moisture and damp away from your supplies. Plastic drawers are perfect for storing papers and felts and whatever else you need. Plastic boxes with inserts are just the thing for all your little cutouts of letters or bits and bobs needed for card making. I even use these to store my jewelry. The compartments keep it all sorted.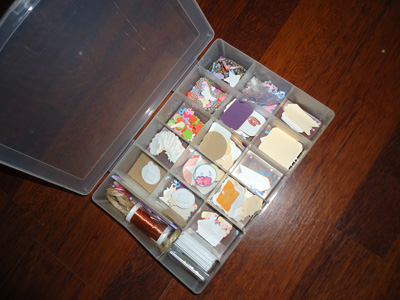 Glass jars are another pretty way for storage. I found these lovely jars in a second hand shop when we lived in Holland. I loved the shape and that it was a kind of souvenir. They make a great display for my many ribbons and trinkets.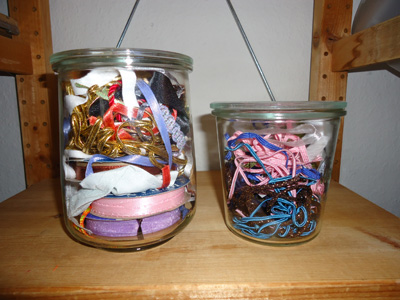 Tins are also another way to beautify your crafting space. I store stamp pads in mine, but you can store just about anything in them. Again, you can find these in second hand shops for almost nothing except a little cleaning. And stacked up, they look great!
Think outside of the box! Any type of box works great. When we lived in Japan, I found these fabulous enameled boxes used to store food (Japan's version of tupperwear). I use them as a pretty way to hold my pencils and pens! Ikea has amazing storage solutions. They have lovely paper boxes with metal edging in basic colors to blend into your space. I use a flat box to hold paper scraps and stickers. Another one holds extra envelopes.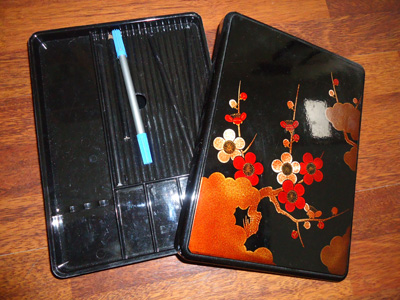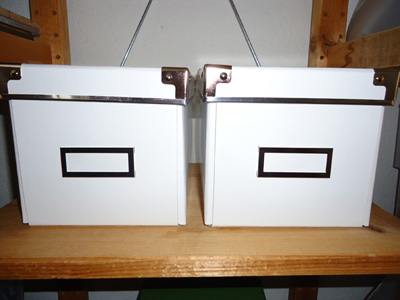 Raid the home improvement superstores! They have awesome containers for nails and screws. I use mine for buttons and little tiny items. And, Home Depot also has fishing tackle boxes perfect for on the go crafting. If you're going on a road trip, take one along for quick crafting. I also have one for my sewing supplies for when I do alterations.
Personalize your space. When you go on holiday, find cups or boxes or drawers to bring back as souvenirs. When you look at these items, it'll take you back to a wonderful memory.
Use your own creativity in finding things to organize your space, you'll find out you'll love your space that much more!