Hello, and welcome back! Summer's back with a vengeance this week, so I'm going to be firmly ensconced inside, with the a/c running and my stack of August romances close at hand. And a tall, cool drink, because some of the books waiting to be read promise to be good and steamy. I can hardly wait!
Speaking of steamy, I have Lori Foster's latest to share with you this week,

When Bruce Met Cyn... (Zebra). Bruce Kelly is the good brother, a minister who's spent a lot of time working with women, wounded women. But Cyn Potter isn't interested in being his next project. Trouble is, Bruce wants way more than to fix her hurts, and that's a little scary. Cyn's spent a lot of time running from her past, but Visitation, North Carolina seems like a place she could stay awhile. Except Bruce is always there, and, aside from her previous,bad experiences with preachers, he makes her feel things she can't quite handle. This is most definitely Bruce's story, moreso than Cyn's, and it's a good one. There are a handful of authors who craft truly wonderful heroes on a regular basis, and Lori Foster is one of them. Cupid's lent four arrows for this one.

Next up is the reissue of Janet Dailey's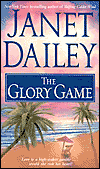 Glory Game (Pocket Star). Remember the 'glitz' romancey books from the eighties? This one falls squarely into that, and I know there were plenty of fans when this genre was popular, so if you're a new Dailey fan, or an old fan who just doesn't have this on her shelf, this one may be for you. Luz Kincaid Thomas is the lucky one, or so she believes. Until her husband leaves her, and her golden life as she knows it comes crashing apart. From continent to continent and with polo as a backdrop, Luz rebuilds her life, but can she trust in love? This story was definitely like taking a trip back in time for me, to my early romance-reading days, when glitz was the norm. If you're feeling a little nostalgic, or simply must have all of Ms. Dailey's books on your shelf, pick this one up. Me, well, the ending didn't quite give me what I'd hoped for. Call me a hopeless romantic. It'd be true.

Finally, we have Patricia Rice's latest,

This Magic Moment (Signet), the newest Malcolm-Ives tale. This time out, aura-seeing Christina Malcolm Childe finds herself about to married to her long-time betrothed, Harry, Duke of Sommersville, but he's not the man she's known for years. But Christina will settle for nothing less than love, and finagles an agreement from her new husband that they won't consummate their marriage until he loves her. Interesting idea, right? In the hands of a less-skilled author, this might not work. In this instance, however, it's wonderfully done, and with just the right amount of visits from Malcolm family members to make you want to re-read the previous stories and wait anxiously for the next. I'm giving it four arrows as well. And, if you're interested, this book is our September Book Club Selection, and we'll be discussing it in the forum next month.

Until next time, happy reading!