How well do you know your Canary or Finch. Take this Quiz to find out.
Click Here to Enter
How did you like the quiz? Was it too hard or was it too easy? Did you know the answers already or did you search for them in my articles?
Here is an e-book Iíve written that is devoted to Zebra and Society Finches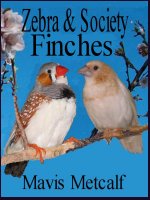 Click on the picture or
here
for more information or to order.
Please drop by the birds forum where we can talk about our birds.