Pumpkin Penuche has the texture of creamy fudge, with the wonderful flavor of pumpkin. It's a great candy to make for the holidays – a change from some of the cloyingly sweet candies that show up on trays from neighbors and friends. It's great for fall, too; why not include this delicious candy on the annual Halloween BOO-ffet or as an extra dessert at Thanksgiving with the pumpkin pie?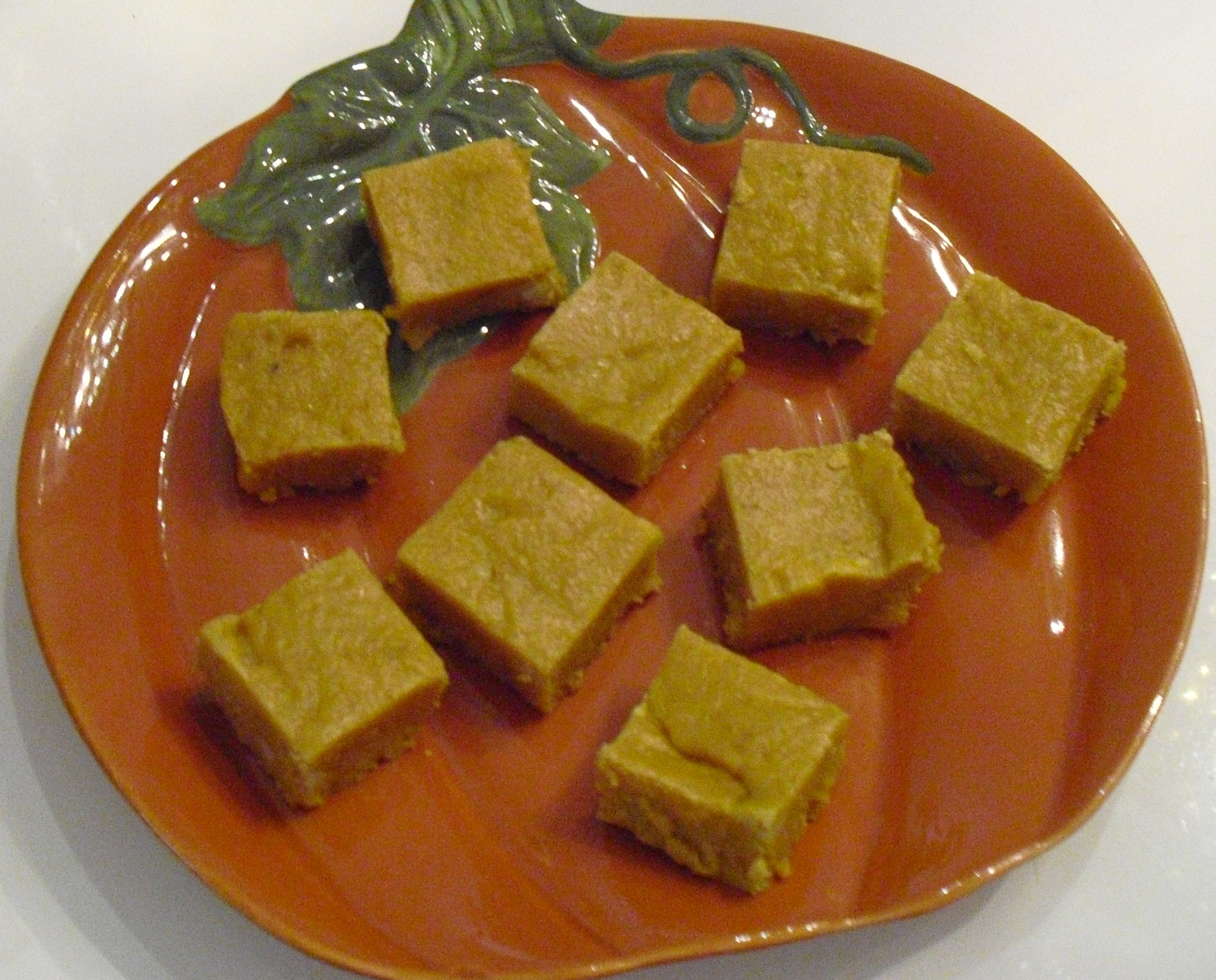 Walnuts are especially good in this candy, but pecans or hazelnuts are also delicious and can be substituted. A little pumpkin pie spice can also be added for a cinnamon spice flavor.
48 3/4-1" squares
4 cups sugar
1 cup half and half or evaporated milk
3 tablespoons light corn syrup
1 cup canned pumpkin
1 pinch salt
3 tablespoons butter
1 teaspoon vanilla
2 cups chopped walnuts
Butter or spray with non-stick spray a 9 x 9" square pan or 9 x 9"shallow baking dish.


Spray a mixing bowl with non-stick spray; set aside.


Combine the sugar, half and half or evaporated milk, light corn syrup, pumpkin, and salt in a 4 quart heavy saucepan; whisk until smooth.


Cover the pan, turn the heat to medium, and bring to a boil.


When the mixture boils, uncover the pan, wash down the sides with water and a pastry brush, and let cook, without stirring, to just beyond the soft ball stage (238°).


Remove from heat, pour into the prepared bowl (without scraping)


Cut the butter in pieces and sprinkle on the top of the candy (don't stir in).


Transfer the bowl to a cooling rack and let the candy sit until cool enough to touch the bottom of the bowl with your hand(about 140°).


When cool, add the vanilla and walnuts; beat for a minute or two until the fudge has lost its gloss, and pour into the prepared 9 x 9 inch pan.


Cut into squares.
This candy keeps up to two weeks in an airtight container. Place between sheets of waxed paper
Amount Per Serving
Calories 120 Calories from Fat 40
Percent Total Calories From: Fat 33% Protein 3% Carb. 64%
Nutrient Amount per Serving
Total Fat 4 g
Saturated Fat 1 g
Cholesterol 4 mg
Sodium 60 mg
Total Carbohydrate 19 g
Dietary Fiber 0 g
Sugars 17 g
Protein 1 g
Vitamin A 24% Vitamin C 1% Calcium 0% Iron 1%