BulkFoods.com
carries foods, candies, spices, nuts, chocolates and much more! Their products come in many sizes from trial sized to bulk sizes and in the convenience on online shopping. You will find everything from health supplements to candy and baking products. Some of the products that I can personally share with you from this wonderful resource are:
Fruit and Nut Baking Mix
- This is a wonderful combination of Peanuts, Papaya, Walnuts, Cherry Bits, and Pineapple that is great in fruit breads, cookies and cakes. I also tried it in a fruit salad and it turned out great!

Coconut Milk Powder
- Spray dried coconut milk powder is great to use in tropical smoothies and beverages, salads and to use in baking. Just add warm water and instant coconut milk. I like this because powdered milk lasts so much longer than fresh so you have it on hand when you need it.

Super Cookie Mixture
- This has a combination of Peanut Butter Drops, Chocolate Drops, Choc O Buttons, Confetti Drops and Butterscotch Drops and is great in cookie dough, brownies, muffins and also sprinkled on top of icing on cakes and cupcakes!
Egg White Powder
- When you need egg whites and don't have eggs this powder is simple to use. Reconstitution directions are on the container. No more running to the store when you want to whip up some meringue or need egg whites in a recipe!

Star Anise
- This spice which has a "licorice" aroma is used in many dishes. This came mostly whole sliced pods with pieces for fresh grinding delicious with carrots and tomato soup!

Pumpkin Pie Spice
- The all-natural spice has a wonderful aroma and is great for pumpkin pies, breads, muffins and also a sprinkle on yams!
Mixed Peppercorns
- A delightful colorful combination of whole green, pink, black and white peppercorns. Serve this in a clear grinder as a tasty and interesting conversation piece!

Extreme Seasoning
- If you like spicy you found it! This wonderful combination of cayenne pepper, jalapeno pepper, and wasabi powder is great in hot dishes! Try sprinkling a little dab on warm tomato juice for a picker-upper! I really enjoy spiced tomato juice and this was delicious!

Apple Pie Spice
- Apple pie never had it so good! The all-natural spices and the aroma of fresh apple pie, cake, cobblers and more is great when you use this spice!

Maple Sugar
- I LOVE this! Sprinkle a little bit in oatmeal or muffins. The possibilites of this crystalized maple sugar are endless plus it's an all-natural sweetener with no additives! Excellent!

Date Pieces with Oat Flour
- These are excellent for baking. They are lightly coated with oat flour to help keep it from being sticky until used and are great in muffins, candies, cakes and more. Plus they are great to put into cereal or trail mixes and just snack on!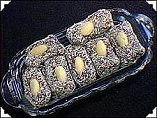 Date Nut Rolls
- California natural ground dates covered with unsweetened shredded coconut and topped with a blanched almond. Very classic candy that looks good on a fruit/candy tray or in holiday gift baskets! It's also a sweet little garnish treat on plates.

Cinnamon Sticks
- A nice golden brown with a fragrant aroma and good flavor when ground. I love to use cinnamon sticks when making holiday gifts and crafts and also in simmering potpourri and foods. There are so many uses for these!

Macadamia Nuts Roasted and Salted
- Very tasty whole shelled, roasted and salted macadamia nuts. These are wonderful for baking! (and snacking) They also tasted fresh and not rancid like some that you buy in the stores these days!
Black Walnuts
- There is nothing like black walnuts in brownies and other baked goods! These are pieces of shelled natural raw eastern black walnuts and are also delicious in cookies.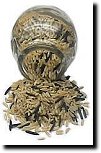 Wild Rice Blend
- Wild rice blended with long grain brown rice is high in nutritional value and quite delicious. I enjoy serving this with chicken but there are so many ways to enjoy wild rice!

Quick Cooking Wild Rice
- They process this in a way that removes the bitterness and leaves a delicate sweet taste. The busy cook will love this rice as it only takes 15 minutes to cook then you have a healthy side dish to go with anything.
Lite Cocoa Melting Wafers - This is similar to milk chocolate but does not require tempering so can easily be melted for molding and dipping plus it is a tasty snack!
White Wafers
- These are similar to white chocolate but also does not require tempering and melts easily for making candies.
Bulk Foods provides so many products in the following categories:
Nuts (62 Kinds), Snack Mixes (34), Healthy Snacks (37), Dried Fruits (63), Beans & Seeds (37), Health Supplements & Organic (32), Spices & Herbs (100), Grains & Cereals (30), Baking (50), & Cooking (35)
Candy
Candy (48), Gum (18), Old Fashioned (25 Kinds), Sugar Free Candy (18), Wrapped Candy (30), Gummy (29), Licorice (33), Supplies (12), Hard Candy (50), Pops (20), Jelly Beans (35), Specials & Gifts
Chocolates and Confections (Check their heat charts because these will melt in warm weather)
Chocolates (43), Sugar Free Chocolates (19), Yogurts (10), Wrapped Chocolates (30), Drops & Melting Coatings (26) & Carobs (10)
Professionals and personal cooks will love this site!!! This extensive supply of baking goods and candies and more will keep you stocked no matter what the scope of your cooking needs are. Visit
BulkFoods.com
and see all they have to offer and how easy it is to order from them.