When making doll clothes, socks and booties are necessary to complete an adorable outfit for your baby dolls. In an earlier article I wrote about a crocheted pattern for doll booties, for those of you who prefer to knit, here is a pattern for knitted booties. This pattern is free for your own use, you may not use it commercially.
The weather will soon begin to get colder, at least for those of us in the Northern Hemisphere. We like to have warm toes and so do our dolls. This design will keep your dolls tootsies nice and toasty. Another nice feature of this pattern is that it uses a very small amount of yarn, so you can use up some yarn you might have left over from another project. I used
Loops & Threads Snuggly Wuggly Baby Sport
but any sport weight yarn will work. The photo at right shows the booties on my
True to Life Newborn
baby doll. She is about 12 to 13 inches tall. .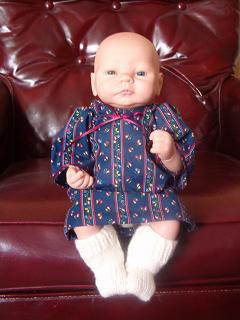 This article assumes you have a basic knowledge of knitting. If you need help we have a Knitting Site right
Here
at BellaOnline.
Materials Required
Small amount of sport weight yarn
Size 4 knitting needles (U.S.)
Large eye tapestry needle for sewing up the side seams
To start, cast on 18 stitches. I use long tail cast on, which is particularly easy to do with so few stitches, but whatever method you prefer is fine.
Work in knit 1, purl 1 ribbing for 8 rows.
Row 9 - Knit, decreasing 1 stitch at each end of row.
Row 10 - Purl.
Repeat these two rows until you have 8 stitches left on the needle. This should take 10 rows to do.
Continue in stockinette stitch, on 8 stitches, for 20 rows.
Begin to increase 1 stitch at each end of every knit row, until you have 18 stitches on the needle, working still in stockinette stitch. Again, this should take 10 rows to do.
Work in knit 1, purl 1 ribbing for 8 rows.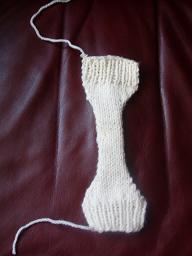 Your bootie, at this point should look like the photo at right. Bind off.
Fold the bootie in half with right sides together and stitch up both side seams, using the tapestry needle. Weave in the yarn ends and turn right side out. Make another bootie to match and enjoy!
Making and Dressing Cloth Dolls
Ebook with patterns and instructions to make 5 cloth dolls as well as chapters on general doll making techniques.The book includes 21 inch Lalena Doll, 21 inch David Doll, Bear Dolls, 9 inch Destiny Doll and 15 inch Annie Doll, all together in one handy book. 53 pages.
Making and Dressing Cloth Dolls
.