This dress will fit slim specialty dolls such as 18 inch Magic Attic, 15-16 inch Kathe Kruse, 16-17 inch Sasha, 17.25 inch Natterer Sunihil, 16.5 inch Theodor Recknagel Dolls, and other similar slim collectible and antique dolls.
For clothes to fit 18 inch American Girl and other historical dolls
click here
.
This pattern is my own design. You may use the pattern for yourself or gifts but you may not use it commercially.
For pattern pieces
click here
..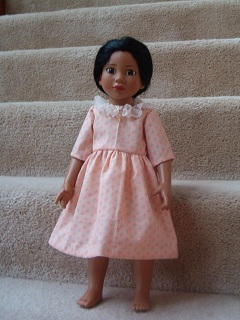 Bodice
With right sides of back and front bodice facing, sew together at shoulders. Press seam open.
Roll in neck edge and blind stitch on wrong side of neck line. Turn under the cut edges of the lace, 1/8 inch twice and tack it down. Using a long basting stitch, gather the lace (if you are using flat lace) until it is 7.5 inches long. Using very small stitches, and thread that matches your lace, attach the lace to the neck edge
on the right side, or outside, of the bodice
.
To finish back seam of bodice, turn in twice on each center edge and hand or machine stitch to make a one-fourth inch hem.
Sleeves
Using a long basting stitch, gather the curved, shoulder edge of both sleeves and ease to fit them to the shoulders of the dress, matching the center fold line of the sleeves with the shoulder seams. Stitch in place with right sides together and clip curves. Hem the sleeves by turning up the bottom edge 1/8 inch, twice, and stitch in place. Pin and stitch side seams and sleeve seams.
Skirt
Baste the waist of the skirt and gather it. Pin the skirt to the bodice at the waist, right sides facing, easing the skirt to fit the bodice around the waist. Stitch the skirt to the bodice.
Pin and stitch the center back seam of the skirt to an inch below the bodice, leave the center back of the bodice open. Turn under the center back edges of bodice 1/8 inch, twice, and stitch in place. Attach snaps, hooks and eyes or sticky dost at neck edge and waist edge, to close back. Hem the bottom of the skirt.
Enjoy!
Homepage for Sasha, Kathe Kruse, Magic Attic
Pattern Pieces
Sewing Instructions
Long Sleeve Dresses
Short Sleeve Dresses
***
For American Girl, Corolle, Gotz
Making and Dressing Cloth Dolls
Ebook with patterns and instructions to make 5 cloth dolls as well as chapters on general doll making techniques.The book includes 21 inch Lalena Doll, 21 inch David Doll, Bear Dolls, 9 inch Destiny Doll and 15 inch Annie Doll, all together in one handy book. 53 pages.
Making and Dressing Cloth Dolls