I am sharing with you, this week, a porcelain doll that my son and daughter-in-law gave me for Christmas. Her name is Melanie. She was designed by Phyllis Wright and she is part of the
Merry Melodies Collection
by Paradise Galleries. This doll is absolutely beautiful and one of the sweetest dolls I've seen in a long time.
Melanie is dressed in a lovely outfit with a lot of exquisite detailing. Her dress is a very pretty pale green check with pink rosebuds and double layer sleeves, with a matching bonnet. She has a cute green and white striped apron over it and a white eyelet petticoat under it. She has white eyelet pantaloons, tights and white mary jane shoes.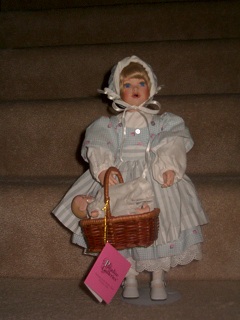 Melanie is carrying a basket with a baby in it. The baby is also porcelain and its little dress has the same lovely attention to detail, with smocking around the yoke and a satin ribbon tied at the neck. It even has a tiny diaper on! The baby's wicker basket has a pillow and mattress in it that are made of satin.
In addition to being beautifully painted and dressed, Melanie also has a music box in her that plays "Hush Little Baby". This is possibly my favorite part, because I just love music boxes.
The doll came in a pretty pink box with a certificate of authenticity and a wrist tag on the wicker basket. This is just a delightful doll.
For other doll reviews
Look Here
.
For information on caring for porcelain dolls
Look Here
.
Making and Dressing Cloth Dolls
Ebook with patterns and instructions to make 5 cloth dolls as well as chapters on general doll making techniques.The book includes 21 inch Lalena Doll, 21 inch David Doll, Bear Dolls, 9 inch Destiny Doll and 15 inch Annie Doll, all together in one handy book. 53 pages.
Making and Dressing Cloth Dolls
.