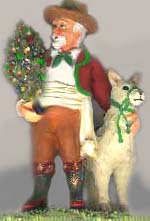 A Chilean Christmas
The traditional Chilean Christmas is colorful and warm. Being neighbors with Argentina means that it too has a warm summertime temperature during the season of Christmas. Like so many Hispanic cultures, Chile too has common threads of the season. These are the beginning of celebrating a season as opposed to a day. This season begins with Advent and ends with the Baptism of Jesus. There are many holly days within the season. One is the nine-day Novena prior to Christmas. As with most Hispanic traditions, there is a Nativity scene depicting the birth of the Lord Jesus in the home.
The tradition of going to midnight mass also known as Misa De Gallo is a part of the Christmas Eve festivities. The mid night mass is called Misa De Gallo because the mass goes on into greeting the new day, the day of Jesusí birth. The name Misa De Gallo literally means Mass of the Rooster. The rooster announces the new day by crowing and like wise the Misa De Gallo announces the new day. After La Misa De Gallo the traditional mid night meal is served. The Christmas Eve meal often includes azuela de ave, a chicken soup filled with potatoes, onions and corn on the cob; and Pan de Pasqua, a Christmas bread filled with candied fruit. After the meal, presents are exchanged and the children are put to bed while the adults continue to celebrate.
The next day mass is usually held in the afternoon as in most Hispanic Cultures as the celebrants usually sleep in after such a late night of celebration. The family will again come together and attend mass. The meal on Christmas Day usually includes turkey, seafood, and freshly grown vegetables and salads (it's summer in December) along with Chilean wine for which the country is famous.
Hi Rebecca
I read your article about Christmas in Chile. Actually the cazuela you mention is pretty much a winter dish - for the May to August season - and I hardly can believe someone has it for dinner on Christmas, as it is a hot soup, and we have temperatures of around 22/23 celcius at night by December 24th. On Christmas people eat pretty much like in New Year. Turkey, with potatoes. Rosted chiken, or a roast beef with salads. Some steak with shrimps and salad. Anything that is fresh. Bearing 30 celcius during the day, the last thing people think about is soup.
greetings
Jorge Moraga
Santiago