It's been a while since I introduced a new fabric doll, but I'm really excited about this one! While I know that not all my readers are women, I think it's safe to say that most of you are. In women's lives, no matter what your job, family or lifestyle, a common thread is that women have inner strength. I am reminded of the saying: "Women are like tea bags...you never know how strong they are till they get into hot water." I know this is true for me, and probably for most of you as well.
This doll is a celebration of the power of Woman and the "Sacred Feminine", whether you see her as a representation of yourself, the "Goddess" in you, a Saint you feel particularly close to, Mary, or a Goddess that speaks to you; you can make this doll.
One of the reasons I am most excited about this doll is that the possibilities for your own creativity and design are practically endless. Embroider a face or leave it without one; decorate the doll or leave it simple; give it hair, of any color that inspires you, or leave it without hair; the choices are yours.
I have seen some dolls that are similar to my design, but I have not found any where the arms are connected above the head, as mine do.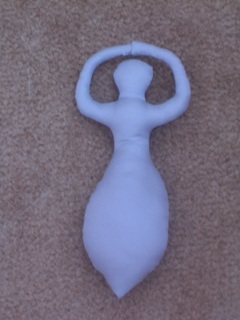 This was important to me in designing the doll, so there are a couple of steps which might seem a little confusing in the sewing, but I have photographed it in steps to make it easier to understand. The doll in the photo is completely without any decoration so that you can see how the doll should look when you are finished assembling it. In the next article I will include a pattern and sewing instructions. For now, be thinking about who your doll represents and what you want her to look like when she is completed.
You can make this doll quite literally using scraps, in fact the doll in the photo was made from part of one sleeve of a recycled mans dress shirt! Gather supplies to decorate this doll and make her your symbol of the power of women.
Making and Dressing Cloth Dolls
Ebook with patterns and instructions to make 5 cloth dolls as well as chapters on general doll making techniques.The book includes 21 inch Lalena Doll, 21 inch David Doll, Bear Dolls, 9 inch Destiny Doll and 15 inch Annie Doll, all together in one handy book. 53 pages.
Making and Dressing Cloth Dolls
.