This week we are starting a series of articles about making a set of scrubs for your 18 inch doll. This is a topic near and dear to my heart because I was an R.N. for over 15 years, and I just wanted to make a set for my dolls. I thought you might also be interested in trying your hand at this. So here we go!
Begin thinking about what you would like your doll scrubs to look like. You might try visiting a uniform store to get an idea of the many colors and patterns available to people who need them. The colors and patterns are a lot of fun to look at. As anyone who has ever had to wear scrubs will tell you, variety is definitely the spice of life!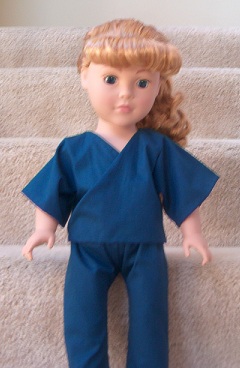 The scrub suit is shown on my Madame Alexander Favorite Friends doll
.
As you can see in the photo at right, I went with the standard navy solid for this example. If you or someone you are sewing for wears scrubs, or a little doll lover has a parent that wears scrubs, you would want to make your doll's scrubs coordinate with what they wear. But, since navy is such a standard for scrubs, I went with that. And, I had the fabric in my stash!
Look for light weight cotton or polyester/cotton blends. Of course, calico will work and be quite adorable when finished. This set doesn't require much fabric, I would estimate .5 yard, just to be on the safe side, but you might not use it all. You'll also need matching thread and a bit of either elastic, for the waist, or a bit of yarn to make a draw-string waist. I made a draw-string because it just seemed more authentic to me.
So gather your supplies, next week we'll start sewing!
For the scrub top pattern
Look Here
.
For the scrub pants pattern
Look Here
.
For Sewing instructions for the scrub top
Look Here
.
Making and Dressing Cloth Dolls
Ebook with patterns and instructions to make 5 cloth dolls as well as chapters on general doll making techniques.The book includes 21 inch Lalena Doll, 21 inch David Doll, Bear Dolls, 9 inch Destiny Doll and 15 inch Annie Doll, all together in one handy book. 53 pages.
Making and Dressing Cloth Dolls
.