In this article we are going to concentrate on what is commonly known in doll collecting circles as a "Downy Dunk." To see an article on general hair care for dolls
Look Here
. This technique assumes that your doll's hair is basically clean but frizzy and unruly. You know what a little girl's doll looks like after being combed and played with; this can be a way to fix some of the damage and try to restore the doll's hair to it former glory.
The doll I used in this article is a generic 18 inch doll, not expensive to buy, so I was not so concerned if it didn't work. You might want to do the same thing, try the technique with an inexpensive doll first, before going right to one of your more valuable doll. If you have an antique doll,
Do Not Wet The Hair at All!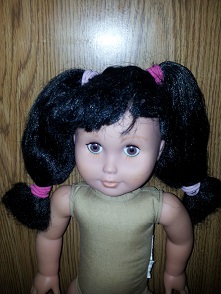 In the first photo to the right, you can see that the doll's hair is quite frizzy, but clean.So I removed all her clothes and pony tails and combed the hair with a very wide toothed comb. I then put about 1/2 inch of water into an old, cleaned, super market meat tray. I then added a full cap of fabric softener. I used Downy, as you can see in the next photo, but I'm sure any brand would work.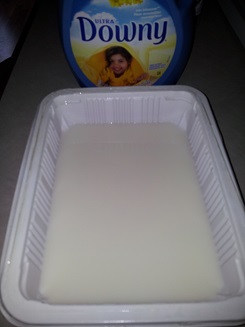 Being very careful not to get the vinyl of the doll into the fabric softener, saturate the hair in the tray of liquid. Once my doll's hair was completely wet, I let it sit in the tray of liquid for 2 hours. After 2 hours I gently rinsed the hair in cool water and towel dried it.
The doll's hair was already much easier to comb through. I then put the hair back in pony tails, wrapped it around the base to set it and let it finish air drying. This can take a couple of days, but is gentler on the hair than heat drying it.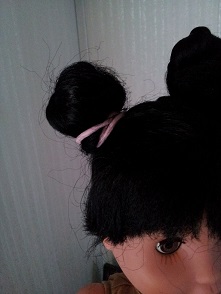 After drying completely I unwrapped the hair and combed it out. The ends were still a bit frizzy, so I trimmed about 1/2 inch off the bottom of each pony tail, and neatened up the bangs a bit, but took no more than 1/8 inch off.
As you can see in the final photo, the hair is much thicker and smoother; I'm quite happy with the results and will do this again when necessary.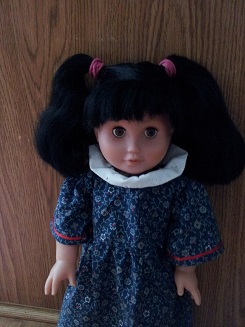 Making and Dressing Cloth Dolls
Ebook with patterns and instructions to make 5 cloth dolls as well as chapters on general doll making techniques.The book includes 21 inch Lalena Doll, 21 inch David Doll, Bear Dolls, 9 inch Destiny Doll and 15 inch Annie Doll, all together in one handy book. 53 pages.
Making and Dressing Cloth Dolls
.