Hello, and welcome back! While the ground is white again, I think by next week, most of the snow should be gone. Then again, it is only 18 days till the first day of spring. I'm actually looking forward to taking my books outside in the evenings again, when we're not running to Little League games, that is. Soon enough, I suppose.
In the meantime, I have three new books to share with you this time, including a late February release,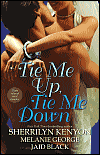 Tie Me up, Tie Me Down (Pocket), with stories by Sherrilyn Kenyon, Melanie George, and Jaid Black. 'Captivated by You' by Sherrilyn Kenyon is fun--steamy and humorous, with agents Rhea Stevenson and Ace Krux learning the ins and outs of domination to catch their bad guy. I really, really liked this one. 'Promise Me Forever' by Melanie George is next, with Savannah Harper kidnapped by her one and only love Donovan Jericho, on the eve of her wedding to another man. I didn't like this one as well, but I'm sure some fans of first love stories will be able to excuse Savannah's cheating on her fiance. 'Hunter's Right' by Jaid Black comes last, with Corporal Ronda Tipton's army helicopter crashing in the Arctic Cirle, and killing everyone else aboard. While trying to find a more protected spot, she finds an ancient civilization of Vikings underground. When she's caught by Nikolas Ericsson, she's forced into a wife auction. Okay, I love a good Viking story, but here Ronda goes from strong, capable woman to what sounds like something out of a bad porn movie. Yuck. I wish I could give this anthology a higher rating, but with that last story, this one's earned only two and a half of Cupid's five arrows. Kind of disappointing.

Next is the latest from Suzanne Enoch,

Flirting with Danger (Avon), her first contemporary romantic suspense. Thief Samantha Jellicoe has no idea what she's getting into when she goes to the home of Richard Addison, but the bomb that goes off is definitely not her work. It appears that someone was trying to kill Rick. But who? I had a hard time summoning up much interest in a heroine who's a professional thief, honestly, and Rick didn't do much for me as a hero either. There's not enough convincing spark between them for me to buy the romance. It's just not a keeper. It's earned two and a half arrows as well.

Finally we have the new Shirley Jump,

The Devil Served Tortellini (Zebra). Maria Pagliano is ready to change herself. Her high school reunion is coming up, and she's going to lose some weight before she goes--after all, former football captain Antonio Lombardi will be there, and she'd rather he was interested in her than one of her classmates. Dante Del Rosso's restaurant serves some delicious foods, though they're not on the diet plan. Maria is fun, a bit neurotic, Dante is one sexy chef, and the diet group is hilarious. Just what I needed to read after that last book. I'm giving this one three and a half arrows.

Until next time, happy reading!