Here are pattern pieces to make a pants outfit for 6 inch to 8 inch mini dolls such as those by American Girl, Tonner Betsy McCall, and similar body types with a chest measurement about 4 inches.
This pattern is my own design. You may use the pattern for yourself or gifts but you may not use it commercially.
To make your 1/2 inch square grid graph paper
To copy the pattern by hand you can create a 1/2 inch grid by measuring every half inch and making a pencil dot all the way down and across, on all four sides of a piece of 8 1/2 by 11 inch paper. Then use your ruler or straight edge to connect the dots with your pencil. Then draw the pattern lines into each square of your grid, exactly as they are shown in my design.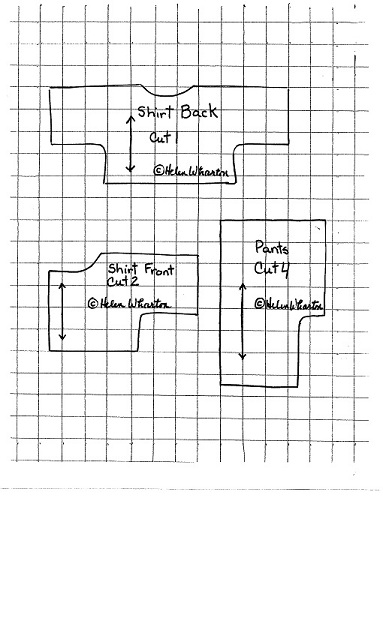 For sewing instructions
click here
.
For photo of 7 1/2 inch doll in this pants outfit pattern
click here
.
How to Make Clothes for American Girl, Corolle, Gotz and Similar Dolls - Homepage
Mini Doll Pants Outfit Pattern
Mini Doll Pants Outfit Sewing Instructions
Mini Dolls Short Sleeve May Day Dress
Mini Dolls Short Sleeve Dress
Betsy McCall Mini Doll in Short Sleeve Dress
Doll Accessories
Article and Pattern by Helen Wharton
Making and Dressing Cloth Dolls
Ebook with patterns and instructions to make 5 cloth dolls as well as chapters on general doll making techniques.The book includes 21 inch Lalena Doll, 21 inch David Doll, Bear Dolls, 9 inch Destiny Doll and 15 inch Annie Doll, all together in one handy book. 53 pages.
Making and Dressing Cloth Dolls
.