SingStar Pop for the PS2 lets you choose from over 30 different pop songs and sing along with the music videos. The videos are what set this apart from the many other sing-along games for the PS2.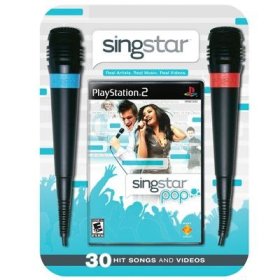 I own and play many of the other game systems, and like this style of gameplay in general. I find it a bit annoying that SingStar makes you buy SingStar specific microphones, and won't work with other standard PS2 microphones, but if you get into the series you could justify the added price since the mics work with the PS2 and PS3 equally. It's a purchase that will last you a system upgrade.
Also, where many other games use replacement singers and not the actual artists - which can lead to results ranging from comical to outright awful - this game involves the real singers, real videos, real images, everything. So if you love singing along to videos, this is perfect.
That really is the main focus of this game. There isn't a career mode, or much of any other 'gaming' aspect. You don't get to choose different arenas. There are no crowds cheering you on. It's just the video playing, you singing along, and the words scrolling by to help you out.
The note bars are very basic. They barely give you a sense of the pitch, and in situations where the singer "warbles", the note line often is a straight line. Also, the game seems to pick up on the actual singer's vocals, so even if you barely sing at all, you get a good rating.
There's a video mode where you can film yourself singing, and then play it back. This is great for aspiring club singers to get a sense of what they look like for an audience, to practice their moves and gestures. This helps the singer both perfect their pitch and vocal range as well as their on-stage expressiveness. You of course need the Eye Toy for this part to work!
I realize I'm an adult gamer, and not a teen, but I wish there was more of a range of songs offered here. Out of the list of songs, there were a handful I really enjoyed and a few others I would sing - but many just weren't of interest to me. I loved the XBox games that let you download tons of content - but here I have to wait for the new PS3 version to come out before I have that ability.
So in the end, if you love the songs on this list, you'll like the game. If you're not that fond of these songs, hold off for the PS3 version and get yourself a PS3. Then you'll be able to download songs and videos for hundreds of songs. Also, I would hope for the PS3 version that they'll improve the actual song-tracking side of the game, to make it similar to the much higher quality abilities of the other karaoke style games.
Buy SingStar Pop from Amazon.com
Song Listing:
3 Doors Down - Kryptonite
A-Ha - Take On Me
ALicia Keys - Fallin
All-American Rejects- Move Along
Ashlee Simpson - Invisible
Avril Lavigne - Sk8er Boi
Blue October - Hate Me
Britney Spears - Baby, One More Time
Cartel - Honestly
Cyndi Lauper - Girls Just Wanna Have Fun
Daniel Powter - Bad Day
Destiny's Child - Survivor
Franz Ferdinand - Take Me Out
Gorillaz - Feel Good Inc
Hinder - Lips of an Angel
Hoobastank - The Reason
James Blunt - You're Beautiful
Jesse McCartney - Beautiful Soul
Lifehouse - Hanging by a Moment
My Chemical ROmance - Helena
Natasha Bedingfield - These Words
Panic! At The Disco - I Write Sins not Tragedies
Rihanna - SOS
Ryan Cabrera - On the Way Down
Snow Patrol - Chasing Cars
The Clash - Should I Stay Or Should I Go
The Fray - Over my Head
The Raconteurs - Steady as She Goes
U2 - Vertigo
Whitney Houston - I Wanna Dance With Somebody