Those little marshmallow critters are amazing. Discover the research into Peeps and Peeps doing their own research!
It's been said that Peeps are indestructible. Is it true? Discover the facts and fallacies about Peeps at the Peep Research.org.
The intrepid researchers have covered the basic questions about Peeps.
Our first studies focused on basic attributes and reactions of Peeps to simple conditions and stimuli.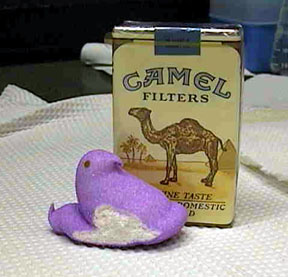 This research covers reaction to cold and heat, solubility testing, and low-pressure environments. Next the researchers focused on Peep health. Sad to say, but there are distinct problems when Peeps combine cigarettes and alcohol. Be warned, the photos are graphic!
Unknown to most are the Peeps in attendance at institutions of higher learning. What are the unique needs of these students? The Office of Fluffy Research, Staley Library, at Millikin University decided to address this question. Susan Avery and Jennifer Masciadrelli undertook the research.
The research began with the Peeps' arrival at the library, research habits, library usage, usage of library facilities, and library resources.
A pair of Peeps is observed using the Library of Congress Subject Headings (LCSH). Note that the term "peep" is not included as a subject heading.
It is interesting that Peeps share many of the same research knowledge, skills, and habits of most college students. They do present unique opportunities for libraries. It is commendable that Staley Library is reaching out to this under served community. It should be noted that some staff members are in need of additional training in their interaction with Peeps.