Hello, and welcome back! We're all a little sunburned here from our Saturday of Little League, so I expect that by the time the games get into full-swing, there might even be a little tanning going on, at least for my husband and the boys--I'll be burnt a bit more before any tanning happens. Oh well. At least all these practices give me plenty of reading time.
First up this time is the latest from Karen Rose Smith,

Cabin Fever: Montana Mavericks: Gold (Silhouette Special Edition #1682). Investigator Brad Vaughn is nothing if not efficient, and taking along his equally efficient assistant Emily Stanton when he has to go to Montana for business just makes sense. Of course, getting snowed into an isolated cabin wasn't in the plans, nor was the sudden and urgent attraction he's discovered he has for Emily. This one is sweet and a fast, easy read when you want a couple hours' distraction. Emily's not very trusting, though, and Brad has his own issues in the relationship department, so they have quite a bit to work through to get their happy ending. This one's earned three and a half arrows. Now we have to wait until October for Ms. Smith's next book, darn it.

Next is Cindy Gerard's

To the Edge, Vol. 1 (St. Martin's). Jillian Kincaid has good reason to be furious with her domineering father when he hires her a bodyguard without consulting her first. Nolan Garrett just plans to do his job, keeping Jillian alive, and then go back to his miserable life. For me, this one was just okay. As romantic suspense goes, it wasn't bad. But it wasn't up to the level of some of my faves, like Linda Howard or Nora Roberts. And I just didn't love Nolan--as a dangerous, dark hero, he didn't quite make it for me. I'm only giving this one three arrows.

Erin McCarthy's

Date with the Other Side (Berkley) is next. Shelby Tucker's town ghost tours are usually pretty boring, but the naked man sleeping in the bed of the White House is a bit unexpected. Boston Macnamara is none too pleased to have her barging in on him with no notice, but is more annoyed when he discovers he can't stop her tours through his newly-rented house. And, funnily enough, when they're in the house together, one of the supposed-resident ghosts finally makes an appearance, shocking everyone. This one is cute, though not up to the normal level of steam of Ms. McCarthy's Brava-published books. I'm giving this one three and a half arrows as well.

Finally, we have Jill Winters's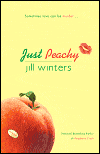 Just Peachy (NAL). Peach Kelley and Adam Quinlan definitely aren't on the lookout for new relationships, but a working one seems all right, when Adam joins Millenium Gift Basket Company, where Peach works. It took me a long, long time to read this one. The first two chapters had absolutely nothing going on, no motivation for me to want to continue reading even to where this pair met, and I'll be honest, finishing this one was a real chore. I didn't like Peach at all and, after that super-slow beginning, couldn't have cared less if she got a happy ending. Sorry, but this one's getting only one arrow. I think I'll skip any future releases by Ms. Winters.

Until next time, happy reading!