Zebra and Society Finches are wonderful and popular little birds. This e-book will give you lots of information to help you care for your own finches.
Zebra and Society Finches is a 21 page e-book about these wonderful little birds.
Includes
Introduction
About the Zebra Finch
About the Society Finch
Finches as Pets
Where to Obtain a Pet Finch
One Finch or More?
Bringing Your New Finches Home
Cages
Diet
Bathing
Toys
Clipping Nails or Wings
Household Dangers
Breeding
Baby Society Finches – Watch Them Grow
Eggbinding
More Information
Many chapters have pictures including several baby Zebra and Society Finches.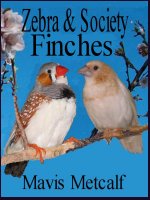 Click on the picture or
here
to see more information and to order.
At my shop at
Cafe Press
, you can order a t-shirt with with a Zebra Finch on it.

create & buy custom products at Zazzle
If you ever have any questions about your birds - whether it is a finch, canary, or one of the parrot species, there is always someone available on the birds forum to talk to you and help you out. Instead of asking question, maybe you can help someone else out with their questions. The more we can help new bird owners learn, the better it is for the birds and that is why we are here.