Hello, and welcome back! I think spring is mostly here in central PA, though it was a little chilly over the weekend--but I'm not complaining, because I know the heat and humidity of summer will be here soon enough! I hope you're getting in a bit of reading time amid all the usual spring chores. I'm waiting now for a truckful of mulch so I can get to work on the front flowerbeds, but I've got three new romances to share with you today, covering three different ages in history. Let's get started.
First up is Betty Davidson's

Heart of a Hunter (Jove's Seduction Romance). My first comment on this has nothing to do with the story, but if you're a reader who shops by covers and you hate country music, this cover won't convince you to buy--the model on the front bears a striking resemblance to Billy Ray Cyrus at first glance. Sorry, it really does have nothing to do with the story, but it was the first thing that struck me when I looked at this book. Anyway, the short version: Lynette D'Aubere is to wed Devon Seward because his dying father proclaimed it. Little do they know that her mother is the guilty party here, trying to save her daughter from an unwanted fate. Devon is none too happy to be saddled with a reluctant bride, any more than Lynette is thrilled to be wed to a man she doesn't love. When he finds her in the wood, fleeing to a convent, he keeps his identity a secret. It's a case of lust at first sight for him, and confusion for Lynette, who believed that she loved another but finds herself attracted to this stranger. Definitely not a match made in heaven. But they can't simply fall in love and settle things--Richard has seized control from his nephew Edward, and the country is in an uproar, a situation which affects Devon and Lynette personally. This one is a pleasant enough read, but not a keeper for me. I can't put my finger on one solid reason, just that it didn't win me over 100%. I'm giving it three of Cupid's five arrows.

Next up is Nicole Byrd's

Lady in Waiting (Jove). Psyche's younger sister Circe Hill gets her story this time out, and she's still got a tender spot for David, earl of Westbury, her childhood friend. However, becoming his pretend paramour for the Season wasn't in her plans. Falling more in love with him wasn't either, especially when it appears that he means to do the proper thing. David is not only engaging in a bit of subterfuge in his relationship with Circe, using her to appease his mother in her bride hunt, but he's also doing a bit of spying for his uncle. Little does he know that Circe could aid him in that endeavor. Fun and light, and just the thing to while away an afternoon. It's earned three and a half arrows.

Finally is Dorothy Garlock's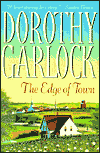 Edge of Town (Warner), with Julie Jones, the mother figure in her father's farm home in the early 1920s. When Evan Johnson comes to town, her life gets a bit more interesting. Not my favorite time period, but the story is filled with great characters and very fine writing. I'm giving this one three and a half arrows as well.

Until next week, happy reading!