In this article, which was originally posted on 10/11/2009, I was asking for your assistance. I have spent several years and many hours online researching the doll in the photo below. I also posted a description of her in the
Doll Making Forum
, with a request for information about her. This doll was a gift to me, about twelve years ago, from my daughter. There was no paper work accompanying her when she was delivered, to tell me what her name was or anything else about her.
I am so happy to report that a reader has recognized her and contacted me; thank-you to Sharon! Her name is "Morning Glory" and she was one of a series of twelve dolls. Sharon told me that two of the other dolls in the series were named "Blushing Rose" and "Violets in the Snow". Each doll originally sold for about $500. Apparently the series was ended abruptly and, from my own research, remain very hard to find.
The rest of the article is as follows, if you have any information on the series, or the other dolls in the series, we would love to learn about them.
Original article
All I know about her is what I can see on her. She was made by the Franklin Mint approximately ten or eleven years ago and she was designed by Maryse Nicole. She was purchased at a Franklin Mint store at a mall near where my daughter lived at the time, in New Jersey. There is a gold Maryse Nicole signature on the back of her neck, but no other markings of any kind. Her body is all porcelain. I believe her list price, at the time was about $400.
Her clothing includes blue satin shoes with white high heels, white pantaloons with lace trim on the bottom and a white, lace trimmed tulle slip. Her outfit is two pieces; a top with peplum and a two layered skirt. As you can see in the photo, she has a blue choker necklace and blue dangle earrings, as well as a blue hat with white feathers and a blue beaded fan.
She stands about 20 to 22 inches tall and her eyes are a beautiful shade of violet blue with dark lashes and brown ringlets for hair.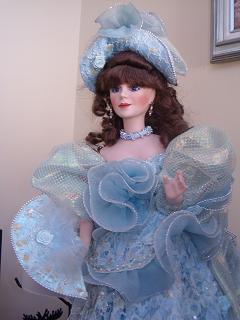 The second photo is a close-up of her head and face, where you can see a little more detail.
I love this doll and have always thought she is one of the most beautiful dolls I have ever seen, so I would love to know a little more about her, especially her name. If you have any information about her please click on my photo above to write to me. Thank-you in advance, for any help you might be able to give in identifying my beautiful doll.
Making and Dressing Cloth Dolls
Ebook with patterns and instructions to make 5 cloth dolls as well as chapters on general doll making techniques.The book includes 21 inch Lalena Doll, 21 inch David Doll, Bear Dolls, 9 inch Destiny Doll and 15 inch Annie Doll, all together in one handy book. 53 pages.
Making and Dressing Cloth Dolls
.