Hello, and welcome back! Hope all of our US readers had a great extended weekend. My gardens are finally cleared out of winter debris and ready for fresh mulch and a few new plants to fill in some holes. But that will have to wait just a little longer, as baseball season is still in full swing. Oh well, something more to look forward to.
This week, I wanted to take a look at an author I wish were a tad more prolific, Linda Lael Miller. I've got quite a lot of books by this one, easily a shelf-full, but I've noticed that there haven't been too many recently. At least, until this month. This month, we're treated not only to a full-length novel, but a story in the latest 'Bad Boys' anthology. And both are a treat.

In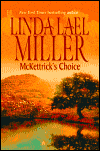 McKettrick's Choice (HQN), Holt McKettrick returns to the home of his youth to help the man who raised him. The burning wedding dress that greets him in San Antonio belongs to Lorelei Fellows, who's about to escape the unhappy home of her own youth. Lorelei is great fun, determined and stubborn--equal only to Holt's own stubbornness, however. The cast of secondary characters makes for such an enjoyable read, you'll hate to reach the end--but find that trying to put the book down to do something else, like sleep, is terribly difficult. Ms. Miller's historicals have always been funny and touching, and this one is no different. It will just make fans long for the next, and make the wait seem far too long.

And, as I mentioned, her novella, "Batteries Not Required," leads off

Beach Blanket Bad Boys (Brava). Gayle Hayes's trip to Montana is going to be short and sweet. Well, maybe not so sweet, when the first person she encounters on her way to her meeting is Tristan McCullough, the man who broke her young heart. And who's got his own grudge. But, boy do these two steam up the pages! This one was my very favorite in the entire anthology. Several of the others were fun, but my big complaint about this one was that some of the stories were too short, too abrupt, perhaps. Still, as a whole, and with Ms. Miller to lead the way, this one is a perfect beach read.

Until next time, happy reading!