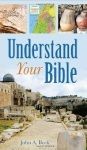 As the name says,
Understand Your Bible
is a practical guide to getting deeper into Bible truths. The author, John A Beck rightly recognizes the discouragements Bible readers face while reading Bible texts which were written in a different language, several thousand years ago. He sets out to help readers enhance the quality of their Bible reading by laying down six puzzling questions that often overwhelm Bible readers. Not stopping here, Beck also leads the reader through these mysterious questions, showing how each of them plays a vital role in understanding Bible truths.
Understand Your Bible
engrosses the readers and creates an appetite for more instruction on knowing how to unearth the hidden meanings in Bible texts. Each of the six chapters unlocks one secret to better understanding the Bible. Beck uses illustrations from the Bible which motivate the reader to dig deeper in their own experiences of Bible study.
New readers of the Bible will find
Understand Your Bible
indispensable as the book dispels the mysteries shrouding Bible texts and gives the reader a clear cut idea on how to approach Bible reading. This does not make
Understand Your Bible
in any way less suited to those familiar with the Bible. Very often even sound Christian believers find the Bible difficult to comprehend and end up reading the Bible without any guidance, making Bible reading a monotony and ritual.
Understand Your Bible
, helps habitual Bible readers get a much better idea on how to get the most out of systematic Bible investigation and study.
Another thumps up for
Understand Your Bible
is that this book is not expensive like most other Bible study aids and is affordable to all. It is written in simple language that can be easily grasped, making the book suitable for both young and old alike.
Though a great tool for new Bible readers and those desiring to get more out of Bible study,
Understand Your Bible
is only a basic guide and does not venture out to address confusing chapters or difficult texts in the Bible. Bible scholars and experts may not find help in tackling tough passages here.
Understand Your Bible
has been deliberately written to assist common readers and
not
for theologians.
After a read through
Understand Your Bible
, believers realize that there is
more
to the Bible than what catches the eye. The book shows glimpses of the richness of the Bible, making readers emerge with a thirst to find the treasures in Godís word through systematic Bible Study.
Hereís the link to buy
Understand Your Bible
from the Amazon Store
Buy "Understand Your Bible" by John A. Beck
Note: I received no monetary benefit for this review. I bought 'Understand Your Bible' from a Christian Store with my own funds.