As I told you in a previous article,
My Search for the Right Doll
, The Bitty Baby Doll by American Girl is the most searched for topic on this site. So here is the first dress I have created for my new Bitty Baby dolls.
The dress in this article is a basic dress, all in one fabric, with no added embellishments. I wanted to finish it quickly to get a design out to you, but since it is a simple design, you can add any creative touches that you like to make it your own.
The dress is shown at right on one of my new dolls. This is a great time to start thinking about making a new Winter Holiday dress for your doll, or for a little friend's special doll. The dress would be very pretty in Holiday print fabric, or a combination of prints and contrasting solid fabric. Think about adding ribbons, lace or embroidery to add holiday flair to your creation.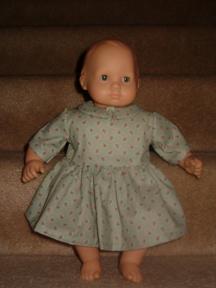 Materials
1/4 yard cotton calico fabric - I recommend a small print because this is not a large doll.
Matching thread
One hook and eye for closure, or sticky dots for a child's doll.
So start to think about making a new dress for that favorite doll. Check your stash of holiday fabric or your local fabric store. The holiday fabrics are available and waiting to inspire your creativity. This dress is my own design and is for your personal use, it may not be used commercially.
For sewing instructions
click here
.
For the pattern,
click here
.
Making and Dressing Cloth Dolls
Ebook with patterns and instructions to make 5 cloth dolls as well as chapters on general doll making techniques.The book includes 21 inch Lalena Doll, 21 inch David Doll, Bear Dolls, 9 inch Destiny Doll and 15 inch Annie Doll, all together in one handy book. 53 pages.
Making and Dressing Cloth Dolls