Scarab or sacred beetles are dung beetles. These beetles were very sacred to the Egyptians. Scarabs, dung beetles, were worshipped by the ancient Egyptians because they thought dung beetles were only male in gender. They thought the dung beetle injected its sperm into a dung ball and as if by some magic baby dung beetles would appear. This behavior resembled the Egyptian god Khepri, who created himself out of nothing. Khepri is usually depicted as a scarab, but is also depicted as a scarab-headed man.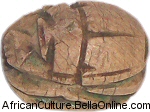 The original Egyptian scarabs were cut out of soap stone. Later they were made out of carnelian, lapis lazuli, basalt, limestone, malachite, schist, serpentine, turquoise, colored glass, and alabaster. Scarabs were also made out of pottery to which colorful glazes were added. The oval flat side of a scarab would have names of pharaohs and officials, private names, magical mottos, formulas, spiral designs and other patterns, images of deities, sacred animals, and religious symbols carved into it.
Scarabs were used as amulets and placed over the throat, chest, or heart of mummies or were used to replace the heart which was removed during embalming. The scarab-beetle was the symbol of the Sun-god and as such could stimulate the deceased's heart to life. Spells were engraved on the flat side of these "heart scarabs".

Available at AfricaImports.com
Winged scarabs were sewn to the cloth of a mummy to provide safe transportation to the next world.
Scarabs were also used as charms that most people could afford and wear on a cord. Scarabs were believed to ward off evil and provide good things for its owner for this life and the next life.
The Sacred Beetle
A book detailing five thousand years of scarabs.