Hello, and welcome back! I hope you're all staying cool, with a new romance handy for when you get a break from those summer chores. The weather here is hot and sticky, so I'm saving my outdoor chores for evenings when it's a little cooler, and that gives me a little more reading time during the day.
There are some good discussions going on over in the forum right now, and I hope you'll join us there to talk about your favorite books or authors, or any of the other topics. Hey, you can even start your own, but come join us there.

I've got a couple new books to share with you this week, so let's get started. First up is Dorothy Garlock's

High on a Hill (Warner Books). Another early 1900's setting (not my favorite time period, though some of you might like it a lot), this time with Annabel Lee Donovan trying to settle into the new house her bootlegger father has moved them into in the middle of the night. Corbin Appleby is the former sheriff of the small town of Fertile, and while she worries about her father and what Corbin could possibly do to him, Annabel can't help falling for Corbin. Ms. Garlock's got wonderful characters again, people you really want to cheer for. I'm giving this one three and a half of Cupid's five arrows. If you like early 20th century settings, you'll enjoy this one.

Now we come to our tortured heroes, with Julia Ross's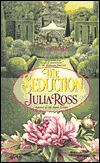 Seduction (Berkley). A lot of readers enjoy a truly dark story, and if you recall, we reviewed one of Ms. Ross's previous books here, and it was far too dark for me. This one isn't quite as dark as the last, though there are an awful lot of emotional pitfalls for our hero and heroine, Alden Granville and Juliet Seton. In order for Alden to reclaim everything he owned--and lost in a card game--he agrees to seduce the widowed Juliet and steal her locket. Seduction for Alden is simply a game, but when he sees Juliet in her garden, he must have her, whether for the bet or not. But someone is pulling strings to control these people, and they're not aware of it until it's far too late. This is one of those stories where you can't even begin to imagine how the characters will find a way to be together, and you'll surely be wishing they could. This is a wonderful story, with complicated characters and a horrid villain. A real keeper for me. It's earned four and a half arrows.

Until next week, happy reading!