Hello, and welcome back! Now that it's September, I've begun compiling the results of the reader survey to share with you later this month. I'm also still readjusting to the quiet house with the boys off to school. But I admit, I am quickly adjusting to having more reading time back.
Born to Be Bad (Pocket) by Sherrilyn Kenyon has three of her BAD stories all in one volume: One BAD Night, a new story; BAD to the Bone and 'Captivated' by You, both of which were included in previous anthologies. Kenyon fans will be able to catch up with their favorite BAD agents before the next new story in the series is released in mid-September. Plenty of steam, not so much real suspense, but I highly doubt the suspense aspect is why these are so popular. For fans who might've missed a story, or who want to see what the fuss is all about, this might be just what you need.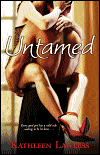 Untamed (Pocket) by Kathleen Lawless is next, with Paris Sommer heading into the Wild West to find out more about her great-great-grandmother. Mitchell Brand is one sexy cowboy, but can she trust him to keep her safe when strange things start happening? If you're looking for an uncomplicated, hot read, this might be a good choice for you. Brand and Paris might have little in common in their lives, but they definitely generate a lot of heat, and a nice, steamy read every so often is always a good thing. I'm giving this one three and a half of Cupid's five arrows.

Until next time, happy reading!