About a week ago a fellow editor, here at BellaOnline.com asked if I had any patterns for a 8 inch
Madame Alexander
doll. I went through all the patterns i have posted here and could only find one, for a
Pants Outfit
. So, this week I set to work and designed and made a pretty dress for little dolls.
This dress is a little more difficult to make, both because of its size and because the skirt is lined. That being said, this is still a basic pattern which can be made as simple or as fancy as you would like.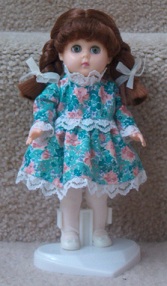 In the photo at right, the dress is being modeled on one of my 7 1/2 inch Vogue Ginny doll.
This dress should also fit Betsy McCall dolls and American Girl Mini Dolls, or any doll of similar size and body type.
I have put lace trim at the neck and hem edges, the hems of the sleeves and at the waist. I wanted it to be a real confection! I have also lined the skirt with a double layer of fine tulle to give it a little extra bit of body and "pouf".
Only a tiny bit of fabric went into making this dress, in fact a quarter yard would probably make four of them! And there is only about a yard of lace, as well; so this is a great project to use up some left over scraps of fabric and lace.
So gather your supplies and check back next week for the pattern.
The most popular dress on the Doll Making Site, The Spring Dress for 18 Inch Dolls, is included as well as 5 other outfits, underwear, and accessories such as jewelry, a bag, a knitted hat and scarf, and the new scrub suit. There are also patterns for slender Magic Attic type dolls as well as full-bodied American Girl dolls and an antique Saucy Walker doll from the 1950's.
If you love 18 inch dolls, and want a collection of patterns for a wardrobe, all in one handy Ebook, this is for you! All these patterns are available on the Doll Making site, but I have brought them all together in one book for ease of finding and using them.
Make Clothes for 18 Inch Dolls
.