Hello, and welcome back! This time out, I have three new contemporary November releases to share with you, so let's get started!
Heartbeats (Berkley) by Susan Rae leads things off for us this time. Dr. Elizabeth Iverson is shocked when Drake McGuire comes back into her life. Not only does she have a secret she's kept for six years, but now her life is in danger. From reading advance reviews of this one, I thought I was going to love it, but, after reading it, I find it just adequate. The premise is great, but I didn't fall in love with them, didn't believe either of them couldn't figure out whodunit, and just plain didn't love the story. Sadly, this one's earned only three of Cupid's five arrows.

Too Perfect (Signet Eclipse) by Julie Ortolon finishes her latest trilogy. Amy's challenge is to travel, to prove that her old college roommate is wrong about her, but when she gets left behind when her cruise ship sails off, she's faced with finding a way to stay for the duration of her vacation, to beat her fear. Byron Parks needs a housekeeper who won't see his face while he hides out from the paparazzi, so hiding and disguises work for a while. Amy's got a very poor (and completely unbelievable) self-image, and Byron is just so-so as a hero. I didn't enjoy this one much, but it was better than the first two in the series.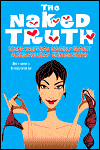 The Naked Truth (Berkley) contains stories by Donna Kauffman, Beverly Brandt, Alesia Holliday and Erin McCarthy. McCarthy's "The Winning Truth" leads things off with Tansey Reynolds going along with a friend to enter a contest for a new car and meeting J. T. Kowalski along the way, though neither of them is looking for a relationship. As usual, this one is sexy and funny, and I wished it were longer, just for a little more of the chemistry between this pair. In Holliday's "The Naked Truth About Guys," columnist C.J. Murphy finds out she's a lot different than she's always thought. Way, way too chick lit for me, and not nearly enough romance. Hardly any, really. In Ms. Kauffman's "Truth or Dare", Bailey Madison not only has to do a lot of things she'd never normally do, but work with her old love Noah Morrissey, to get the chance of a lifetime to work with a rich adventurer on his life story. I didn't like this one much at all, with Noah just letting her be forced into things he knew she was uncomfortable with. Finally, in Beverly Brandt's "Nothing But the Truth," Madison Case has a job few would want. Or that few would be able to do in good conscience, which makes her a bit unlikeable. And her 'romance' is way too forced and short for a novella--she needs a lot more time for her story to be believed. I was disappointed with this anthology, except for the McCarthy story; it strikes me as not enough romance and too many forced attempts at humor. I wish I could rate it higher, if only for the McCarthy, but this one earns only two arrows.

Until next time, happy reading!