The20 inch La Baby doll by Berenguer is a wonderful doll. I originally bought my doll in the 1980's for my daughter, when the company was known by the name Berjusa and that is the name stamped on the back of her neck. As little girls do, my daughter grew up and moved out, but left her doll for me to love, and I do.
In the early 1990's the company name changed to Berenguer but the beauty and quality of the dolls did not change. In fact, the face of my doll is still available from the company. Dolls in many price ranges are available, from soft bodied play dolls; which are good quality and reasonably priced, to more expensive collectible dolls. What I like about the LaBaby line of dolls is that they are as beautiful as the more expensive dolls and are available at my local large discount department store, as well as online.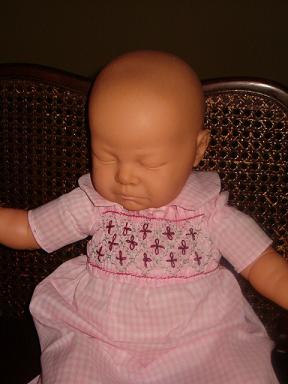 This is my doll in a smocked dress which I made for her.
The 20 inch size is perfect for little girls to love because it is the size of a "real" baby. For those who prefer not to make doll clothes (I can't imagine it!) this doll wears size newborn clothes which can be easily purchased. The life-like quality of the doll was what originally attracted me to her, years ago.
The soft body required a little bit of repair stitching when my daughter was done "loving" her but all the vinyl parts are still soft and in very good condition. My granddaughter now loves her as well.
I plan to use my La Baby by Berenguer for my first effort at reborning. I'd like to give her a new soft body and more vibrant, life-like coloring, after so many years. I'll let you know how my efforts turn out. I'm fascinated by the idea of reborning and this doll is also available as a kit if you would like to try it.
This doll gets my highest recommendation for beauty and value. She would be loved by doll collectors of any age.
Making and Dressing Cloth Dolls
Ebook with patterns and instructions to make 5 cloth dolls as well as chapters on general doll making techniques.The book includes 21 inch Lalena Doll, 21 inch David Doll, Bear Dolls, 9 inch Destiny Doll and 15 inch Annie Doll, all together in one handy book. 53 pages.
Making and Dressing Cloth Dolls
.