In order to be on the list the CD had to have been released between 11/2004 to 11/2005 and I have to love (not just like) at least 4 songs or more on the CD.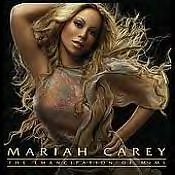 The Emancipation of Mimi - Mariah Carey
See my review of this CD:
http://www.bellaonline.com/articles/art33346.asp

Grown & Sexy - Babyface
See my review of Grown & Sexy:
http://www.bellaonline.com/articles/art34192.asp
Charlie, Last Name Wilson - Charlie Wilson
Note: This album will appeal to music lovers every where. This was a great comeback album. To see an interview with Charlie Wilson:
http://www.bellaonline.com/articles/art34595.asp
Souls Alike - Bonnie Raitt
See my review of Souls Alike:
http://www.bellaonline.com/articles/art36238.asp
URBAN LEGEND - TI
Note: If you didn't know this was one of my favorite spins for the year, then "You Don't Know Me" as well as you think you do (smile).
Who Is Mike Jones? - Mike Jones
Note: This was one of my most played CDs in my player this year too. Nothing like some good riding music--the kind where you can let the window down and just ride.
Free Yourself - Fantasia
Note: Now you see why she won American Idol. This was one of the best CDs of the year. If anyone tries to deny it, then they don't know good music. Even the song "This goes out to all my baby's mommas" struck a cord (although I'm not a baby's momma).
Get Lifted - John Legend
Note: He has the type of voice you can listen to over and over again. He has a fan for life.
The Way It Is - Keyshia Cole
Note: With a voice that reminds me of younger Mary J (no last name need to be mentioned) Blige, I enjoyed the CD.
THE NAKED TRUTH - Lil' Kim
Note: Some folks might disagree, but this was Lil' Kim's best CD yet. See my review of this CD:
http://www.bellaonline.com/articles/art36239.asp
Honorable Mentions:
Late Registration - Kanye West
Note: His sophmore album is better than the first and that was hard to top.
Breakaway - Kelly Clarkson
Note: Another American Idol made the list. This was her year and it helped she put out a good album.
Destiny Fulfilled - Destiny's Child
Note: Too bad they broke up. They were one of the few who could come out with back to back hit albums. Wonder who the next girl group will be.
Now What - Lisa Marie Presley
Note: Music is definately in here genes. To see an interview with Lisa Marie Presley:
http://www.bellaonline.com/articles/art30245.asp
WHO TO BE ON THE LOOKOUT FOR IN 2006
Chris Brown