This is a lovely Christmas dress for 15 inch baby dolls such as
Bitty Baby
, from American Girl. The dress is a little big, but not too big, on my doll so it should fit any medium size baby doll.
It is a basic style dress that becomes a little more festive for the Holiday Season with contrasting colored holiday colored fabric and the addition of lace trim. The bow for her head also sets off the outfit, and is a very easy, no sew itrm that anyone can do.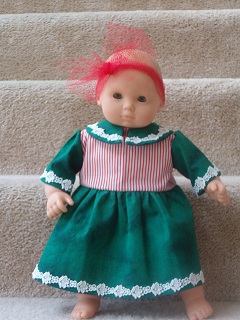 Materials Required
1/4 yard cotton fabric for the skirt, sleeves and collar. You may require up to one yard depending on the print, for the skirt width.
A very small amount of fabric for the bodice front and back.
Matching thread.
One hook and eye for closure, or sticky dots for a child's doll.
Approximately 1 1/2 yards of 3/4 inch wide flat lace trim.
Tulle, 4 inches wide by approximately 30 inches long.
For the pattern to make this dress,
click here
. The only change I made from the original pattern, when making the Christmas Dress, was to cut the collar pieces 1/4 inch larger, on all sides.
For sewing instructions
click here
.
I stitched the lace on the dress after it was assembled. This works well for the skirt and sleeve trim so that it doesn't get bunched up in the side seams; which will happen if you apply the lace before assembling the dress.
For the head bow I just tied the strip of tulle in a bow and trimmed the ends. I tied it several times to get it the size and look I was happy with.
Making and Dressing Cloth Dolls
Ebook with patterns and instructions to make 5 cloth dolls as well as chapters on general doll making techniques.The book includes 21 inch Lalena Doll, 21 inch David Doll, Bear Dolls, 9 inch Destiny Doll and 15 inch Annie Doll, all together in one handy book. 53 pages.
Making and Dressing Cloth Dolls
.