This dress will fit slender dolls such as 16-18 inch Kathe Kruse, 16-17 inch Sasha, 17.25 inch Natterer Sunihil, 18 inch Magic Attic, 16.5 inch Theodor Recknagel Dolls, and other similar slim collectible and antique dolls.
18 inch American Girl dolls do not have the slim body like these dolls so this dress will not fit American Girl type dolls. For clothes to fit 18 inch American Girl and other historical dolls
click here
.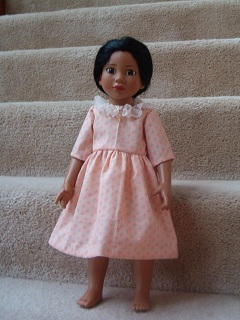 Pattern Pieces Link
Sewing Instructions Link
The photo at right is my 18 inch Magic Attic doll, Rose. Magic Attic dolls are no longer in production, but they are still very popular and available from collectors and online auction sites.
1. Magic Attic Dolls
- For 18 inch dolls such as Magic Attic cut out the patterns and sew just as in the sewing instructions.
The overlap at the center back seam is one quarter inch.
Make the finished skirt length 7.25 inches.
2. Sasha and Kathe Kruse play dolls
- For 15 to 17 inch dolls such as Sasha, and Kathe Kruse play dolls, the skirt length will be 5.5 inches.
Also, and this is very important, the overlap in the center back seam is 1 inch.
Hints and tips for making doll clothes and costumes
-
Press, pin and sew
doll clothes in that order.
-
How to Make Hems on Doll Clothes
Hemming doll clothes by hand is the best way to give them a nice finish.
- I like to use cotton calico fabric for doll dresses. This is the type of fabric used for making quilts and the prints tend to be small, perfect for small dresses.
- If the clothing is for a child's doll, use
velcro
closures rather than buttons or hooks and eyes for safety's sake.
Homepage for Sasha, Kathe Kruse, Magic Attic
Pattern Pieces
Sewing Instructions
***
For American Girl, Corolle, Gotz
***
For Raggedy Ann, Andy and Madeline
Article, Patterns and Photographs Helen B. Wharton
Making and Dressing Cloth Dolls
Ebook with patterns and instructions to make 5 cloth dolls as well as chapters on general doll making techniques.The book includes 21 inch Lalena Doll, 21 inch David Doll, Bear Dolls, 9 inch Destiny Doll and 15 inch Annie Doll, all together in one handy book. 53 pages.
Making and Dressing Cloth Dolls
.