Hello, and welcome back! It looks as though that last gasp of winter we had a couple weeks ago might be it for us here. Too bad, though I am very much looking forward to seeing the spring flowers bloom--and I do have things sprouting already, like daffodils that are insistently growing despite the cold. When it's warm enough, I'll be able to sit out side again with my books in the evenings (when I'm lucky enough not to have baseball or work to deal with, that is). That will make a nice change from curling up inside as we've been doing for months. And hopefully I'll have some good books to read while I'm sitting outside, better than what I've got here this week.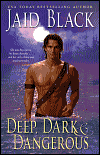 Deep, Dark and Dangerous (Pocket) by Jaid Black is up first. I didn't go into this one with high hopes, having read the previous stories in her 'New Sweden' series, and I wasn't surprised by my feelings when I was done. Madalyn Simon, yet another starts-out-smart-then-turns-stupid-by-sex heroine, finds herself kidnapped with her sister by Otar on his woman-hunting expedition and has to decide whether to marry him or face the auction block and take her chances with some completely-unknown guy, also bent on breeding. My initial feeling when I started this series was 'yuck'. It hasn't changed. I don't find these in the least bit hot, just sad.

Devil's Knight (Pocket) by Lucy Blue is next, with Siobhan Lebuin fighting alongside her brother to recover her family's lands from Tristan Dumaine, whom she belives has wronged her family. This one starts off violently and keeps up the pace throughout much of the rest of the story. That, combined with the vampire aspects of the story, overshadowed anything else for me, and there were scenes so dark, I imagine there will be readers who simply put the book down and walk away. Even putting these aspects aside for a moment, Siobhan and Tristan are so hateful to one another from the start, it's impossible for me to imagine them in love, to believe in that portion of the tale even a little bit. I had higher hopes for this one, having heard good things about its predecessor. Too bad.

Until next time, happy reading!