Sadly, I must admit that I am a late comer to the legions of fans of the Gene dolls. I bought my first Gene Marshall doll in February, on a whim, and I am thrilled with her. My doll is entitled Midnight Gamble, you can see her photo below.
For those of you who are unfamiliar with Gene Marshall dolls I will give you a little bit of background about these dolls. The line of Gene Marshall dolls was designed by award winning illustrator, Mel Odom, and was licensed to Ashton Drake in 1995. Ashton Drake continued to produce the line until 2006, when it was licensed to Integrity Toys.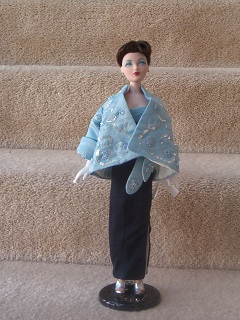 This doll has a story, she is a movie star. She began her life as Katie Marshall and she dreamed of being discovered by a Hollywood producer. This happened when she was working as an usher in a fashionable theater in New York City. She then changed her name to Gene. It adds a certain amount of fun to know that your doll isn't just a doll, but has a life story.
Gene is a fashion doll in the truest sense. At 15.5 inches tall, she is larger than Barbie, and the only similarity is that they are both called fashion dolls. Gene was designed for adult collectors. Her clothes are designed based on movie star fashions of the 1930's, 1940's and 1950's. Amazing attention to detail is evident in her ensembles. Quality fabrics, such as silk, are used and the pieces are lined. The jacket on my doll is hand embroidered and embellished with sequins and beads.
There are other dolls in the line, for , of course, Gene has friends. These include Madra Lord, Violet Waters, Zita Charles, and Ivy Jordan. Each doll and outfit comes with a certificate of authenticity and a story card about the occasion for which Gene wore the outfit. Each doll is also numbered and comes with a wrist tag, as well. The hair is rooted and styled by hand, the faces are painted by hand, also. Gene is beautiful in the truest Hollywood movie star tradition.
Unfortunately, in December 2009, Mel Odom announced that 2010 will be the final year of production for Gene and her friends.
Making and Dressing Cloth Dolls
Ebook with patterns and instructions to make 5 cloth dolls as well as chapters on general doll making techniques.The book includes 21 inch Lalena Doll, 21 inch David Doll, Bear Dolls, 9 inch Destiny Doll and 15 inch Annie Doll, all together in one handy book. 53 pages.
Making and Dressing Cloth Dolls
.