Every girl likes to get dressed up in a new outfit for Thanksgiving celebrations with friends and family. Our dolls are no exception. This is especially true if, like me, you decorate your home with your dolls. The dress in this article will fit slender 18 inch dolls, such as Magic Attic, Kathe Kruse and Carpatina. For a dress to fit American Girl type dolls
Click Here
.
This dress is a very easy one to make, and because it is so simple, it is also easy to add your own special touch with how you finish it. I added tea dyed eyelet lace and a bow at the front, but almost any lace or ribbon will work.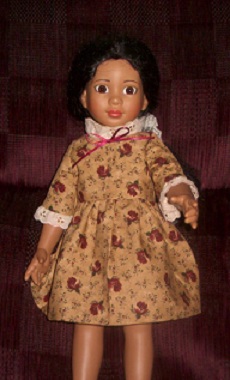 Materials
*The dress literally requires scraps, no more than 1/3 of a yard. I used scraps of fabric from my Mother-in law's
Thimbleberries
collection, so I'm not exactly sure how much actual yardage was used.
*Matching thread
*About 18 inches of eyelet, cut into three pieces. Cut two of the pieces the same as the width of the bottom of the sleeves and the third piece to fit the neck edge of the bodice with 1/2 inch extra at the ends to turn under.
*12 inches of 1/8 inch wide satin ribbon for the bow.
*Hook and Loop, or
Velcro
closures
.
For the pattern to make this dress
Click Here
.
For the sewing instructions
Click Here
. The only differences will be in the attachment of the eyelet. Before putting the sleeves in, hem the bottoms of the sleeves and then stitch the eyelet on the wrong side of the hemmed sleeves, with the right side of the eyelet facing out.
After the dress is finished, tie the ribbon in a bow and tack it into place.
For instructions on how to tea dye the eyelet lace
Click Here
.
Making and Dressing Cloth Dolls
Ebook with patterns and instructions to make 5 cloth dolls as well as chapters on general doll making techniques.The book includes 21 inch Lalena Doll, 21 inch David Doll, Bear Dolls, 9 inch Destiny Doll and 15 inch Annie Doll, all together in one handy book. 53 pages.
Making and Dressing Cloth Dolls
.