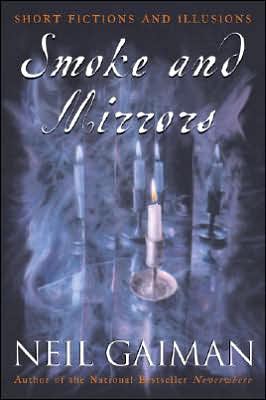 I discovered Neil Gaiman (
Anansi Boys, American Gods
) several years ago when I became intrigued by the cover of his novel
Neverwhere
and decided to take a chance on it. I later found out that the book was a novelization of a popular British series by the same name. A sci-fi/fantasy fan, I am particular about how "weird" I want my stories, but found that the weirdness in Gaiman's tale was enthralling, and I was immediately pulled into the tale of a modern-day Londoner who discovers another world - a world of fantasy, wonder and danger - existing beneath the sidewalks of his more mundane and safe city.
I picked up
Smoke and Mirrors
over a year ago, but only just recently sat down to read it. Gaiman's strong voice carries a story, whether it be whimsical ("Chivalry") or poignant ("The Wedding Present"). His take on the legend behind Santa Claus in "Nicholas Was..." is a mere 200 words, but horrifically telling as we learn that Christmas is anything but a joyous celebration for the deliverer of gifts. In the foreword, Gaiman fleshes out each of his stories with the inspiration behind the tales, and we see the genius of his muse.
Here are just a few that comprise a wonderful compendium of "short fictions and illusions" as the tagline reads:
"The Wedding Present" - Newlyweds, Gordon and Belinda, receive a strange, unsigned letter as a wedding present describing details of their nuptials. But when they find the letter a few months later, the script has eerily changed - instead memorializing days in their lives not yet lived - days of impending joylessness, pain and infidelity. Frightened, the couple begins to wonder whether the letter is a harbinger of what lies ahead - or just a warning of what could be.
"Chivalry" - Sweet, elderly Mrs. Whitaker stops into her local novelty shop and finds The Holy Grail among the miscellany and romance books gathering dust. When she takes it home (it fits nicely between her ceramic dog and her deceased husband's picture on the mantle), she doesn't have long to enjoy it before Sir Galaad stops at her door, attempting to entice her with other treasures, hoping to trade for the Grail. But Mrs. Whitaker isn't an easy dupe - after all what does she need with an apple from the garden of Hesperides or The Philosopher's Stone?
"Looking for the Girl" - It's 1964 when the unnamed protagonist first sees 19-year-old Charlotte in a men's magazine. Nineteen also, he immediately feels a connection with the photographed beauty who "wore sexuality like a translucent veil, like a heady perfume." Her perfection leads him on a 25-year-quest to find the elusive model who mysteriously appears in the same magazine over several years in various incarnations, with different disguises and names, but always nineteen. Is she truly the same woman, unaging - or an immortal and timeless beauty who has inspired men since the beginning of history?
I truly enjoyed reading through
Smoke and Mirrors
as Gaiman is a master storyteller with a refreshing, unique voice. Read more about Gaiman and his works at
neilgaiman.com/
.