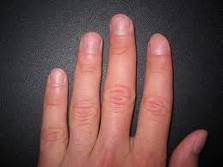 We all spend considerable time trying to make our nails look glamorous. Testing the new fashion nail colors, getting manicures, wearing fake nails. We should take time out to really take a look at our bare fingernails. Wondering why? Well, read on.
Nail Health
Nails are not simply a canvas for us to decorate with glamorous nail colors to grab the attention of those around us. Nails protect the sensitive tissue on our fingertips and they give us an important inside window to the condition of our health. Have you ever just stopped to take a good look at your nails when they were completely bare? Study them closely. Most nails show a slight variation in color. Nails might appear pinkish, red, or white. Many might even see a bluish or yellow tint to their nails. What are these colors saying about the nails and your health? Let's take a closer look.
Nail Colors
According to dermatologist, doctors can judge the state of your health or point to a health problem just by taking a look at the color of the nails on your hands. Most doctors make it a habit to observe the condition of the patients fingernails when they are there for a physical checkup or general exam. Although nail color is one good factor in determining health status, dermatologist caution that it is not advisable to judge complete health solely by nail condition. Other factors are involved with a complete and proper diagnosis. For example, a patient might have red nails. This doesn't necessarily show a heart disease problem. The individual might have injured the nail bed which caused redness. Here are nail colors and the condition that might be involved.
White nails - liver disease.
Yellow nails - emphysema
Red nails - heart disease
White nail beds - anemia
Nail Health Big Five
Here are a few ways to take care of nails and keep them healthy.
-Clean nails on a regular basis to maintain healthy nails.
-Moisturize nails and cuticles to keep them healthy and strong.
-Never use drying nail polish removers with acetone or formaldehyde.
-Don't cut cuticles too close this might cause an infection.
-Avoid fake nails if possible. Might cause infection.
And finally, if you see a dramatic change in the condition or color of your nails consult your doctor.