Fuller, Smith & Turner - Chiswick Mall, London


What man does not find fascination in an intriguing woman, particularly one who can straddle the line between femininity and competency in brewing? Fortunately, these adept women are peppered throughout the world of beer like golden confetti at a New Years Eve Party. They are scarce, but their energy shines like specks of reflective mirror in the sunlight.

During the Great British Beer Festival in July of 2006, I conversed with one such lady Brewster, Georgina Young (aka George), Head Brewer of Fuller Smith & Turner, Chiswick Mall in West London, England. Her enthusiasm for brewing danced in the air as she recounted the story that led her to beer.

One might wonder how a woman decides to follow the amber-paved path to brewing. Many of us are drawn into the wonders of kitchen chemistry (although few of us recognize it as a ďtechnicalĒ skill) while our mothers bake chocolate chip cookies, cream puffs, or midnight magic cakes. We get to lick the beaters, ďstealĒ the chocolate chips, or slice the fresh baked bread - euphoric moments that permeate our memory with sensory appeal. We suddenly realize we like cooking.

It was a natural transition for George. She enjoyed cooking and possessed an affinity for the technical sciences. With her discovery of beer, the triangle was complete. In 1992, she earned a Masters Degree from the world-renowned Heriot-Watt University, Center for Brewing & Distilling, in Edinburgh, Scotland, then returned to her roots in Bristol, the largest city in southwestern England. Perhaps it was the ghost of Bristol-born Elizabeth Blackwell, first woman doctor to be enrolled in the British Medical Register, who whispered inspiration from the past, urging George to open a path for women into the brewing world.

The young brewster got her feet wet on traditional British Ales at Smiles microbrewery in Bristol before moving to Brewing Research International, Surrey, a technology and information firm for the beer and drinks industry. BRI has one of the most highly developed pilot programs for malting, roasting and brewing in the world. George performed test brewing in 1 hectolitre batches, a more financially viable path for brewers who need to perform trial runs for the development or improvement of new beers. For the small brewer, this process offers flexibility, accuracy of control and a plan for efficient production, along with consultation for the analysis of ingredient selection, flavor development, and safety evaluation.

Since her job was experimental in nature, she gained invaluable experience in observing how chemistry affects flavor, keeping accurate records, optimizing processes, and defining characteristics unique to different varieties of malt, hops, water and yeast.

After five years, she had the opportunity to join the team at Griffin Brewery (aka Fuller Smith & Turner). Under the direction of veteran brewmaster and mentor Reg Drury, she learned there was a Fullerís way to do everything. Fullerís follows traditional methods but infuses modern technology into the process, constantly evaluating the results. As brewers with high standards, Fullerís acknowledges the delicate balance between the brewer and his/her yeast, the selection of raw materials, and the brewery used in the process. This philosophy worked well with Georginaís ability to keep in touch with the whole process. When Reg was ready to retire, he passed his legacy to George who infused her enormous creativity into the mix. With the skill of an experienced coach, George guides a team of approximately twenty people in the daily challenge of producing 43 different styles and strengths of beer for worldwide distribution.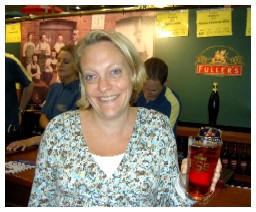 During the 2004 World Beer Cup Competition in San Diego, California, USA, John Keeling, Director of Brewing at Fullerís, UK, and Alex (Bud) Puchner, Senior Vice President of Brewing Operations at BJís Restaurant & Brewery, USA, collaborated on a plan to expand the breadth of experience within their respective organizations. In February of 2005, brewer Scottie Manning of BJís flew to Fullerís to work with Georgina Young, who gave him an in-depth perspective of the multi-dimensionality of brewing in a larger facility. BJís then hosted George in a whirlwind visit to British-style pubs throughout the Los Angeles area. She immersed herself into brewing at BJís Brewhouse in West Covina, California, where Scottie supervises brewing operations, co-hosted a beer dinner at BJís Laguna Hills location, and brewed her English IPA in Woodland Hills..

Manning and Young discussed the challenges each brewery faced, explored solutions, and were exposed to vastly different styles of beer. Georgina witnessed how a smaller brewer has greater latitude for experimentation and may have occasion to create beer of a more extreme nature. Fullerís brews over 250,000 U.S. barrels per year. This requires a high level of attentiveness and planning, as well as a well-trained technology team to assure flawless operation of sophisticated instrumentation.

As a woman with an unusual career, conversation with George takes on a higher level of interest among her friends, particularly the ladies. She often introduces them to Organic Honey Dew, a golden ale brewed with 100% organic malt and Target hops, touched with the delicacy of organic honey. In 2003, Organic Honey Dew was a Commended Winner at the Soil Association Organic Food Awards in Bristol, England.

In addition to her competence in brewing, Georgina is a highly skilled cook. Her superb recipe for London Porter Stew can be found online at:
http://www.fullers.co.uk/main.phtml?history=66

She also draws attention to Fullerís special promotion, a collection of 12 Organic Honey Dew Recipe Cards with Recipe Card Folder. A 12-digit promotional code can be found on specially marked bottles of Organic Honey Dew. Collect one code per recipe card. To submit the numbers online, go to:
http://www.fullers.co.uk/frames.phtml
Click on "Brands," then click the Honey Dew Symbol, choose ďRecipe Cards,Ē then click on ďFree Organic Honey Dew Recipe Cards To Collect.Ē

This heartwarming aspect of George Young cannot be overlooked Ė a master at brewing and a symbol of feminine pride.

Cheers!
†